The films of Wim Wenders focus on alienation, trips between city and the countryside KINGS OF THE ROAD, countries THE AMERICAN FRIEND, ALICE IN THE CITIES, reality and visions WINGS OF DESIRE and simple alienation from humanity THE GOALIE'S ANXIETY AT THE PENALTY KICK.
They are often urban stories, but human survival seems only possible in the countryside according to PARIS, TEXAS and UNTIL THE END OF THE WORLD. Wenders' protagonists make their journeys weighed down with emotional baggage, and as much as they try, this is often hard to leave behind.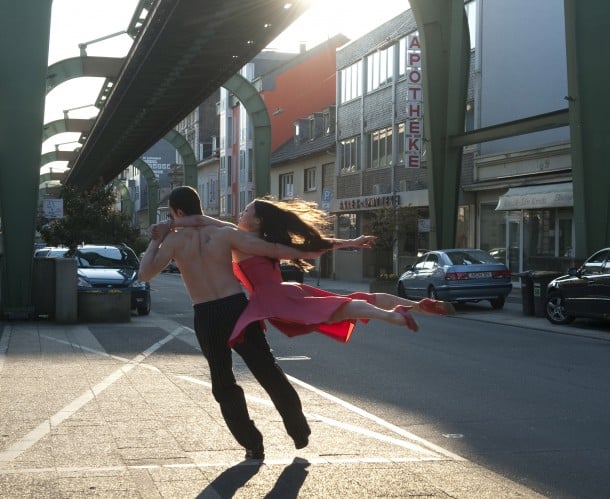 TOKYO-GA and PINA, city nightmares and visions of dance seem to complement each other despite their different topics: the only way out in all Wenders' films are the flights into another dimension: represented by the director's obsession with American culture, his emigration to, and remigration from the USA. At home in both "realities" he is nevertheless a stranger in both and therefore seeks a less earthly vision to make up for it – permanently on the road of visions.
THE GOALIE'S ANXIETY (1972), after a novel by Peter Handke, is the simple story of man losing his identity. The goalkeeper Josef Bloch causes a penalty and is later sent off, this drives him over the edge and he starts murdering at random, hellbent on being caught by the police. Vienna is the main background, a city devoid of tourist trappings it emerges just a grim place for the story to enfold. Bloch is already in another world when he is sent off, the unfolding drama is told as a series of banal but brutal acts. Bloch is alone with his demons, jail seemingly the only answer to his being lost in the real world – which he cannot escape despite his violence. A film about ordinary madness told in form of a chronicle; Kafka and "Weltschmerz" rolled in one and perhaps Wenders most austere feature film.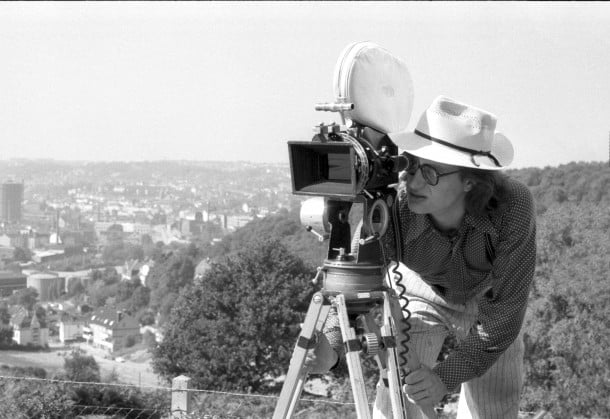 First of a trilogy of road-movies, ALICE IN THE CITIES (1974) features the German writer Philip Winter, stranded in the USA after having missed a deadline for his publishers. He meets his compatriot Lisa and her daughter Alice who seem equally lost. Lisa leaves her daughter with Philip and then disappears. On his return to Germany with Alice, Winter is faced with only one clue to Alice's home: a photo of the front door of her grandmother's house. The journey turns into an act of self-disclovery for Winter and ends in Wuppertal, a city with a tube like construction which carries its denizens over the river Wupper, reversing conventional means of transport. Shot in black and white by Robbie Müller, ALICE is a poem of travels as means of a search for identity.
KINGS OF THE ROAD (1976), the third part of the "Road-Movie" trilogy, features Bruno Winter, a projection equipment repair mechanic on the road along the border with East Germany, repairing the projectors in old, decaying cinemas. He picks up the depressed Robert Lande who has just tried to commit suicide after the divorce from his wife. Both men are fearful of women (a central theme in nearly all Wenders films), they don't trust them – meaning, they don't trust themselves. Again, Müllers b/w camera catches the gloomy landscape beautifully, and the main protagonists seem to be dying on their feet, like the cinemas they visit.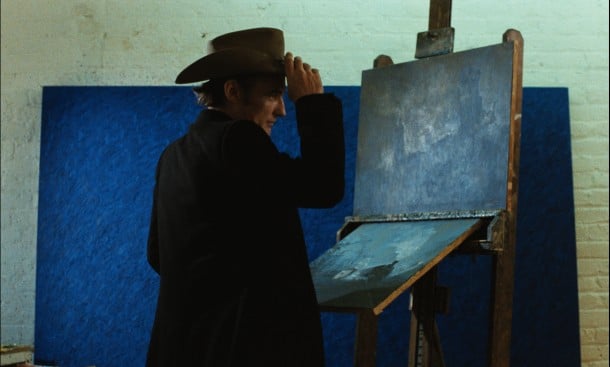 In MY AMERICAN FRIEND (1977), Wenders re-stages Patricia Highsmith' moral drama "Ripley's Game" in Hamburg, where the picture framer Jonathan Zimmerman becomes the victim of the cynical Tom Ripley. With Samuel Fuller as Mafia boss and Nicholas Ray as Pogash, this is an homage to American cinema even though European directors like Lilienthal, Schmid, Blain and Jean Eustache also appear. Wender's Hamburg seems to be a backwater compared with Paris, the city of light taking the place of LA – for the time being.
PARIS, TEXAS (1984) is the story of Travis Henderson who tries to reconcile with his wife Jane for the sake of their son Hunter. His brother Walt is trying to bring his brother's family together but in the end, after finding out that Jane is working in strip club, Travis drives off alone having confessed to Jane that he ruined their relationship with his drinking and jealousy. Again, the main protagonist is unable to come close to the woman in his life – he leaves her for good, seemingly for altruistic motives, but in reality he is running away. Landscape again plays a dominant part, and Robby Müller shows that he is able to translate his poetic realism into colour. PARIS, TEXAS is a mournful poem, very much a replay of "KINGS OF THE ROAD" set in the USA.
WINGS OF DESIRE (1987) is Wenders' most poetic film, where angels and trapeze artists meet in a sad Berlin, and Henri Alekan's nostalgic camera seems to be find the past at every junction. This past echoes through all the buildings, giving even the angels a hard task. Without mentioning exactly what has happened in particular buildings (or their remains), Wenders portrays Berlin not so much as a city of angels, but as a city of sadness and ghosts where the violence of the past violence still peeps through contemporary city life. It seems that the past cannot be eliminated or forgotten amongst the new buildings, so even angels must suffer in sadness.
UNTIL THE END OF THE WORLD (1991) is a film in two parts: the first segment is a mystery about a prototype which seems to enslave people. In the second part, we learn the secret of the device: it can record and translate brain impulses, a camera for the blind. A hitchhiker is traveling all over the world recording images, but this strange activity remains an enigma. Finally, a nuclear satellite is shot down causing an electromagnetic pulse which wipes out all unshielded electronics worldwide. We learn the hitchhiker has filmed the images to bring them home to his blind mother. The characters of the film end up in the Australian Outback where the device is used to record human dreams by the hitchhiker's father. Nearly everyone becomes addicted to the machine except for a novelist who is writing a new book to prove words are more powerful than the device. Overly symbolic, UNTIL THE END OF THE WORLD is a sort of compendium of all Wenders' themes, filmed again by Robbie Müller, who creates many different worlds, all of them alienating, giving humankind very few places to connect with each other.
THE MILLION DOLLAR HOTEL (2000) is set in an LA flophouse where a murder has been recently been committed. Co-written by Bono, the narrative is contradictory, just two characters deserve to be mentioned: Geronimo thinks he is a tribal chief, but is in reality an art thief, posing as a artist. Eloise believes she does not exist, and is therefore immortal. The only reason to enjoy this drama is for the seedy LA background which cameraman Phedeon Papamichael has caught perfectly. Not one of Wenders' best, THE MILLION DOLLAR HOTEL feels just like an étude, compared with the rest of this selected retrospective. AS
CURZON has announced a Wim Wenders retrospective called KINO DREAMS the first UK retrospective of his films in 15 years. Along with IN FRAME it takes a deep dive into into the work of some of the most outstanding filmmakers in the industry and takes place at the CURZON MAYFAIR and nationwide this summer | WIM WENDERS joins the live event on 24 June 2022 with a 4k release of Wings of Desire.