Director/Writer: Eran Creevy
Producer: Ridley Scott
Cast: Mark Strong, Andrea Riseborough, Shaun McAvoy, Peter Mullan, David Morrissey
99mins  UK    Crime Drama
On the whole, Britflics tend to be sink estate sagas, gritty urban cop capers or period dramas. Welcome to The Punch attempts a slick Hollywood heist with the best of British manhood. But the problem is it doesn't quite work.  British cop features are best when they're gritty and sinister (Elliott Lester's Blitz, Get Carter, Long Good Friday) or when they have a heart of gold (Dexter Fletcher's Wild Bill) which is why the standard cop drama works so well on TV.
But when Ridley Scott comes on board with his money, you have to jump to and put on your best bib and tucker and that's what's happened here. For a start there's a problem with casting: James McAvoy is uncomfortable as embittered Detective Max Lewinsky who's rather 'hors de combat' with an injured arm: even the name is wrong for a Brit policeman but he makes a decent go of it. And Andrea Riseborough, as his savvy sub is far too subtle for this kind of vehicle and only gets a thinly written minor part. David Morrissey's Police Chief is lacklustre and rather like his role in Blitz.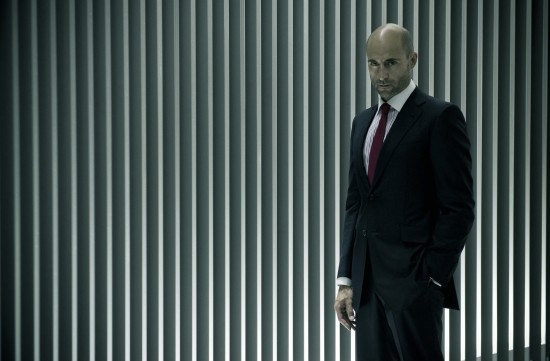 Location-wise we're back in docklands (where else): a place that has seen so many dramas, so many times before.  That said, Welcome To The Punch is a decent film with  appeal for international audiences who just love Great Britain: it doesn't feel at all British to us Brits. The shipping container fight sequence and shoot-out shenanigans are far superior  in Batman, Killer Elite and even Hanna but Ed Wild's hard metal visuals add notable style and pazazz and there are certainly plenty of action-packed shootouts for those who are looking for just that.
The good news though, is that this has Mark Strong and he's just right as a masterful baddie with a heart of gold…well let's say a decent heart… There's a hypnotic strength and control to his performance that speaks volumes. We meet him as ex-crook Jacob Sternwood hiding away in Iceland, of all places.  His son (Elyes Gabel) has gone off the rails rather badly and he is forced back to London to face the music. There's a believability in the sub-plot story of father son bonding that works rather well and so does Peter Mullan as Sternwood's convincingly loyal side-kick crim. And it just so happens that Sternwood's wronged Lewinsky in the past. Cue Lewinsky, with a chance to get even while there's still time.
Welcome To The Punch is a big leap from Creevy's debut Shifty, a nifty little urban tale of drug abuse in the 'hood that had heart and soul and authentic and fresh.  This is a big budget 'blockbuster' but it mostly feels impersonal and unmemorable although it's certainly stylish and competant. Eran Creevy a filmmaker of talent and potential who has jumped at the chance to work with Ridley Scott.  He may be out of his depth here but it has no doubt given him a 'leg-up' and another dimension to his craft. It will be exciting to see what sort of project he brings us next. MT