Dir: Simon & Zeke Hawkins
Cast: Mackenzie Davis, Jeremy Allen-White, Logan Huffman, William Devane, Mark Pelligrino
USA 2013, 90 min.
In this decent Southern Noir debut, first time directors Simon and Zeke Hawkins have learned a lot from the master of crime pulp fiction, Jim Thompson and the weak, sleazy characters, which populate his novels. To start with, the sheriff is bent, a hallmark of many Thompson plots. Then there are the small time criminals, ready to be gobbled up by the real professionals. And there is also the continued threat to woman by their male counterparts. The woman here is Sue and when we meet her with Bobby for the first time in the café, she tries to interest him in "South of Heaven", a novel by Jim Thompson, set in 1927 in Texas, at the height of the depression.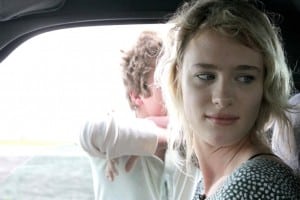 Set in a small town in Texas, the film opens as one member of a teenage ménage-à-trois, carrying the narrative, takes part in a low-key robbery: B.J. (Huffman) empties the safe of his boss Giff (Pelligrino). He is going to spend the money with Sue (Davis) and Bobby (Allen-White), whom are then seen discussing their future at college in a greasy spoon café. Giff, ultra violent, beats his Mexican caretaker half to death in front of Bobby and B.J, wrongly suspecting him of the theft but when Bobby intervenes with his confession, B.J is only too happy to see somebody else taking the rap. But Giff shoots the caretaker, proclaiming him as the guilty party, since he was supposed to look after the funds. However, Giff is not done with the teenagers: they have to rob a depot to steal a much larger sum, so that Giff can pay back Big Red (Devane), a big time gangster, who owns his business. Bobby, being much more rational than the highly strung BJ, goes to the sheriff, to confess, but finds out, that the lawman is part of the Giff's scheme.
Meanwhile Bobby and Sue have sex, overheard by a very jealous B.J., who left one of the walkie-talkies they are going to use in the robbery, with Sue, and has to listen in his car to the noisy lovemaking of his friends. B.J., who has an inferiority complex, since he will stay behind, not having got his college grades, is planning his revenge, but when Bobby and Sue find an empty safe and two dead people, we know that Giff had set the trio up. But Sue, much cleverer than the boys, has alarmed Big Red, and Giff has not only to face the teenagers in a bloody show down, but also a man much more ruthless and cleverer than himself.
The acting is convincing, and never over the top and the main trio, in particular, is restrained; showing their youthful vulnerability in a corrupt and violent adult world. The camera is particularly efficient in the night scenes, achieving a truly noir character of little light and many shadows. A small, but taut Southern-noir thriller, perfecly set in a time before mobiles and the internet. AS
NOW ON GENERAL RELEASE