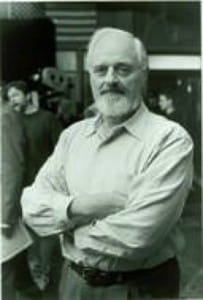 Dir: Ted Kotcheff | Writer: Evan Jones, based on the novel by Kenneth Cook
Cast: Donald Pleasence, Gary Bond, Chips Rafferty, Sylvia Kay, Jack Thompson | DoP: Brian West | 108min   Drama
The maverick and multi-talented filmmaker Ted Kotcheff grew up in a Macedonian community in Toronto, eventually becoming the youngest drama director in the country at only 24. Working extensively for theatre and TV, his well-known series 'Play for Today' and 'Afternoon Theatre' became household names.  His features have become cult classics from Life at the Top with Jean Simmons and Honour Blackman; Golden Bear winner: The Apprenticeship of Duddy Kravitz (1974) that launched the career of Richard Dreyfus to Uncommon Valor, considered one of the greatest dramas about the Vietnam war. First Blood defined the Rambo series and his North Dallas Forty is considered to be one of the best sports films ever made. Turning his hand to successful comedies: Fun With Dick and Jane and Weekend at Bernie's, Kotcheff has also been behind the popular 'Law & Order: Special Victims Unit' for the past 12 years.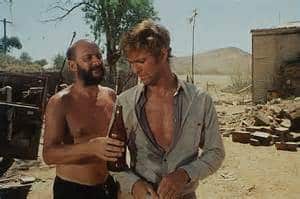 His second feature, Wake In Fright, screened to massive critical acclaim at Cannes in 1971, whereafter it did very poor box office internationally: a not unusual occurrence – Rome, Open City (also re-launching this week), was also unsuccessful on its first release. But Wake In Fright is considered by many to be one of the best Australian films ever made, revitalising the flagging film scene and ushering in the Australian New Wave movement and Ozploitation movies (low budget horror, comedy or action), along with others that wandered into the same cinematic territory: the Barrie McKenzie series, Mad Max 1 & 2, and Nicolas Roeg's Walkabout.
Based on a book by Kenneth Cook, Kotcheff opens with a 360-degree pan of the isolated sun-baked wilderness of the outback establishing the de-humanising environment into which our protagonist John Grant wanders when he fetches up in the Australian mining town of Yabba on his way to Sydney for the Christmas holidays.  Played by the impossibly good-looking Gary Bond, he's a dapper and fresh-faced young intellectual. But when he comes across the local bobby Jock Crawford (Chips Rafferty) in a bar, he ends up on a drunker bender, gambling away his earnings in the hope of winning enough to leave the job he hates in a dead-end location.  Up on the money, he retires to bed, then making the classic mistake of returning to the gambling game. And so begins his descent into a nightmarish hell, isolated from civilisation, in the back of beyond with a collection of raucous locals.
Grant emerges a malleable, weak-willed man who dislikes the people he comes across but is unable to extricate himself from their company or show any restraint in dealing with them. Serving as a parable for the Innocent's descent into Hell, Wake in Fright perpetuates the theory that men will turn into monsters given sufficient alcohol, testosterone and bad company. And the Yabba is a place where you can murder, rape and kill but it's a criminal offence not to hang with the boys; and once you spend time here the law of the jungle prevails.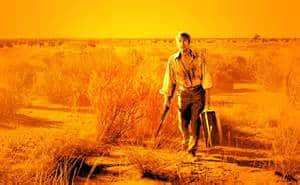 Forcing themselves onto Grant's urbane gentility, the locals ply him with drink and inane banter which he parries with good grace and without restraint until he becomes a lightweight creature of scorn. These are men who slaughter animals for fun and undermine women. After his skinful on the first night, Grant then encounters Tim Hynes, a local 'businessman' who invites him to stay in his ranch.  His daughter Janette (Sylvia Kay in a gracefully alluring turn), has also been forced to her knees emotionally after years of disdain from the local menfolk. Donald Pleasence plays a flippant, roguish doctor, struck-off in Sydney and now in the Yabba to ply his trade to the initiated and uncaring.  Of all the characters, Dr Tydon and Janette are probably the most well-matched, occasionally 'friends with benefits'; Dr Tydon is a sexually ambiguous character. He's also the most psychopathic and least red-necked local, but there's a hard-edged sinister quality hiding behind his glib charm and well-manicured hands. Kotcheff remains completely neutral to his characters, observing their antics dispassionately and giving us space to be disgusted or pitiful at Grant's fate and introducing an element of realism into the drama. But it's difficult not to be sickened by the unrelenting depravity which peaks during an horrific night-time foray where they indulge in kangaroos shoot-out from their jeep, in a set piece which remains seared into the memory.
Although Wake in Fright is not classified as a horror film as such, the narrative contains elements of horror in its sinister build-up. There are no moments of explicit terror; just an unrelenting stream of offence that gradually has a corrosive effect on the psyche and soon the long-cherished idea of Aussie manhood and camaraderie is shot down and exposed for what is ultimately is: a  lame excuse for wanton brutality and mayhem. By the end of the film, nobody emerges unscathed by the events or worthy of our sympathy and so this becomes a drama entirely fraught with antagonists, leaving us desperate to find some kind of redemption where none exists, putting this on a par with John Boorman's Deliverance or Sam Peckinpah's The Wild Bunch: quite an achievement given its low budget, lack of stylistic effects or any real bankable stars apart from Donald Pleasance, who shines out with his richly-crafted portrait of Dr Tydon.  Wake in Fright is a chilling but universal portrait of a civilised man who falls victim to a community he holds in contempt. MT
NOW AVAILABLE ON BFI PLAYER
KOTCHEFF ON THE KANGEROO FOOTAGE: "I loved the kangaroos. I spent a lot of time with them, intimately close: they would lie around my director's chair, waiting, like extras to be asked to do something. They are the most anthropomorphic creatures I have ever encountered. Nothing on earth would persuade me to hurt them or any other animal for any reason whatsoever."