Directors: Sarah Gavron and David Katznelson
Producer: Al Morrow
76min        UK/Denmark/Greenland   2012
Lars is a tall, good-looking 17-year-old: he has the latest Nike trainers, a tee-shirt emblazoned "Will fuck on first date" and 200 friends on Facebook. But Lars doesn't live in London or any urban centre; he eats seal meat with a knife and is one of only 59 people living in a remote part of Northern Greenland where there are no girls his own age.
True to his Shamen ancestors and beliefs, if he gets angry or frustrated he makes a 'Tupilat' out of sealskin to ward off evil spirits.  Ilannguaq, the only immigrant here was attracted by online dating and ended up dealing with the sewerage. He now feels part of this community and has set up a thriving tourism link with neighbouring countries.
Niaqornat, Northern Greenland is a hostile but ravishingly beautiful lunar landscape, where fish and seal blood stain the snowy beaches visceral red and the inhabitants hunt as a matter of survival, toiling cheerfully to an ambient sound of howling dogs and bitter winds.
And they're a happy breed these Greenlanders and a handsome one too with their dark looks and almond eyes. There's something enviable about their apparent good mental health attributable to the fact that everyone here has a role and respects it. Fellow Danes, who still hold sway over this part of the World and who visit on the cruiseships to buy trinkets and marvel: "Nothing has changed here since the old days". But any condescension towards the islanders swiftly evaporates when we spend some time with them: these are fierce, traditional hunters who kill AND have shrewd 21st century business brains. For mod cons they rely on the visit of the Royal Arctic supply ship but the ice is getting thinner with each passing year.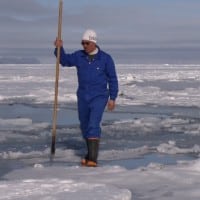 Told through the eyes of four inhabitants: Lars, the teenager; Karl, the hunter; Ilannguaq, the outside; and Annie, the oldest woman: Sarah Gavron's documentary starts in Summer 2009 and takes us through a year in the life Niaqornat where's everyone is related staring the surname 'Kruse'.  Colourful wooden houses shelter them from the icy blasts but connect them to the rest of the world via satellite, internet and telephone, remarkably.
There is a local school where the kids have ambitions to be pilots and shopkeepers, although there is only one shop and no definitely no 'Starbucks'.  According to Annie, Brigitte Bardot is the nemesis of these people whose survival depends on traditional fishing and hunting and, thanks to Ilannguaq, craft sales to visiting cruise-ships. The plan to get a fish factory back into production is not going to be easy but for Kark Kruse, head of the village, harpooning a Polar Bear and dealing with Danish Health and Safety execs are all in a day's work. The villagers don't want to lose their community but to be self-sufficient. And their fight very much connects to a global narrative of survival for small communities all over the world.
And it's a tough story to tell: Greenlandic is a complex visual language based on the weather which naturally made the 3-year shoot a difficult one but what shines through is a fabulous human interest story: David Katznelson's striking visuals help us live it like a native. With close-up shots on a hand-held digital camera it feels like we're actually part of the action, from riding the fishing boat and butchering a whale to sharing an arctic sunset or the welcome reappearance of the sun on the first day of Spring.MT
ON GENERAL RELEASE FROM 10TH MAY 2013 IN SELECTED CINEMAS