Dir: Katharina Kastner | Doc, Belg/France/Ger/ 25′
Katerina Kastner's impressionistic documentary debut captures the essence of the Villa Empain, one of the most beautiful architectural masterpieces of Art Deco in Brussels. In 1930, at the age of 21, Baron Louis Empain commissioned the building of a private mansion in 55 acres on the prestigious Avenue de la Nation which was later on renamed as Franklin Roosevelt Avenue.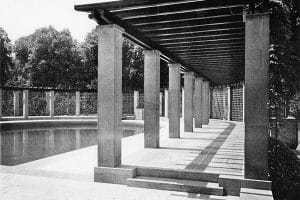 Using the finest materials available in those interwar years (marble, bronze and precious wood), the luxurious house consisted of four polished granite facades, surrounded by a large garden with a pergola and swimming pool. A collector and curator, Louis Empain eventually decided that the property was better served as a museum of decorative and contemporary art, and it was donated to the Belgian Nation in 1937. But the Second World War changed everything and the villa languished until 1943, when it was requisitioned by the German army, eventually becoming an embassy for the USSR in peacetime when Empain recovered his property in the beginning of the sixties, before reselling it in 1973. For nearly ten years it was rented to the TV channel RTL then falling to semi-rack and ruin during the 1990s. It was eventually saved by a wealthy family who set up the Boghossian Foundation in 2007, transforming the building into an East West cultural centre and guaranteeing the revival of its fortunes.
Shot in 16mm this is a sensual creation that resonates with the passage of time, showcasing the the house's former glory through its trials and tribulations to its present reincarnation. The clever editing brings an eerie and fleeting sense of human presence drifting through the empty rooms and light-filled gardens where leaves swirl and valuable materials shimmer in shafts of sunlight. This short but ravishing documentary takes us on a dreamy distant journey to the coast where the family once enjoyed beach holidays in a space reflected by evocative fantasies and haunted by the war years. A century of memories recorded in a treasured place in time. MT
COMES TO MUBI ON 15 JULY 2020 |