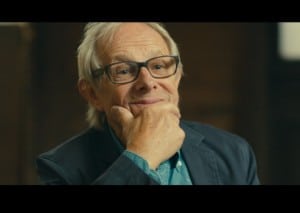 Director: Louise Osmond | Documentary | UK | 93min
With a string of award-winning documentaries under her belt Louise Ormond is fast becoming one of Britain's foremost female filmmakers. Here she makes swift work of uncovering her subject – the social realist superman Ken Loach whose charming and gentle persona belies a steely and terrier-like resolve. Cutting to the chase, the doc opens with Loach branding David and Samantha Cameron 'bastards', he is later seen tearfully reflecting over the endless pain of losing his own son at nearly the same age – in a car accident. Raised in an aspirational Tory household in Nuneaton we discover that Loach did well at the local selective Grammar school and read Law at Oxford where he was 'radicalised' before failing to make it as an actor, joining the BBC at a time when it was casting around for new blood. Here he joined committed left-winger Jim Allen in making a series of films that went beyond the remit of the channel's regular 'posh filmed drama' by presenting life as it really was: aka social realism.
Osmond neatly avoids a hagiographic approach using a tight selection of informative talking heads and although Loach appears charmingly self-effacing on screen and adept at giving his actors the security needed show their vulnerability, as in the case of Carol White in Cathy Come Home, Osmond is quick to point out that he can also demonstrate a rapier-like intransigence when on the attack evidence in his doomed directorship of the 1987 stage play 'Perdition' which was pulled from London's Royal Court Theatre in a controversy that curtailed his filmmaking activity until the mid 1990s – due to lack of funding – forcing him into the commercials domain to keep his family in their large North London home.
At 80, Loach still sticks to a politically incisive style whose social relevance was most poignant in '60s dramas Kes (1969), Poor Cow (1967) and Cathy Come Home (1966) but whose velvet sledgehammer approach now only appeals to a European arthouse crowd who feted  his latest flawed agitprop I, Daniel Blake at Cannes this year. Cleverly, Louise Osmond points this out in her subtle and watchable biopic. MT
OUT ON GENERAL RELEASE 3 JUNE | A 'PAY AS YOU CAN' DAY WILL OPERATE ON THE 6 JUNE AT THE FOLLOWING CINEMAS.