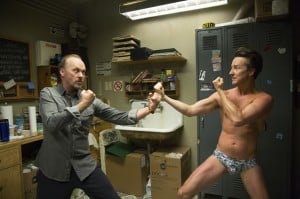 With a focus on World premieres from maverick directors from France, Italy and the USA, this year's Venice Film Fesitval (27 August until 7th September) may yet prove to be a treasure trove of gems. Stars gracing the Red Carpet at the 71st Edition of the Italian Lido's most glamorous event will include Ethan Hawk and Al Pacino. Composer, Alexandre Desplat, heads up the Competition jury that includes Tim Roth, Jessica Hausner, Sandy Powell.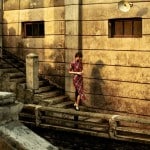 The Festival opens on 27th August with BIRDMAN, or the UNEXPECTED VIRTUE OF IGNORANCE (Alejandro Gonzalez Inarritu) starring Michael Keaton and Ed Norton and closes on 6th September with Ann Hui's THE GOLDEN ERA, that looks back at Japanese Imperialism in China.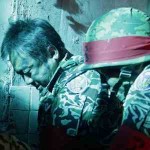 The Competiton line-up at the World's oldest film festival looks at new work from Abel Ferrara with a biopic on the Italian filmmaker  PASOLINI, (his Welcome to New York recently shocked critics at Cannes) Swedish director, Roy Andersson brings his existential film A PIGEON SAT ON BRANCH and Fatih Akin's THE CUT, starring Tahar Rahim as a father looking for his lost daughters, promising to be a contraversial year with hardly any offerings from Eastern Europe or the Far East . Most noticeably, Venice agent provocateur of the past two festivals, Kim Ki-duk, has been side-barred to Venice Days with his latest outing ONE ON ONE. 
Five American films feature in the competition line-up among them: R Bahrani's subprime mortgage drama 99 HOMES, with Laura Dern and Joshua Oppenheimer's documentary THE LOOK OF SILENCE, a welcome follow-up to his critically-acclaimed The Act of Killing. Last year David Gordon Green brought Joe to the Lido, this year his film MANGELHORN stars Al Pacino as a small-town Texan locksmith suffering from unrequited love. Ethan Hawke appears in Michael Almereyda's modern take on Shakespeare's CYMBELINE.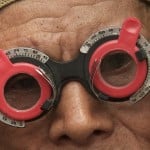 From France, Benoit Jacquot's drama THREE HEARTS stars Charlotte Gainsbourg and Catherine Deneuvre. THE PRICE OF GLORY is a seventies-set comedy involving the imaginary theft of Charlie Chaplin's coffin, starring Peter Coyote. Viggo Mortensen plays a teacher in David Oelhofften's LOIN DES HOMMES that centres on the French war in Algeria.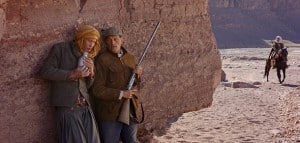 From Italy comes Francesco Munzi's mafia thriller ANIME NERE, Saverio Costanzo's New York love story HUNGRY HEARTS starring Alba Rohrwacher and Adam Driver and Mario Martone's historical biography IL GIOVANE FAVOLOSO that tells the fascinating story of the poet and philosopher Giacomo Leopardi.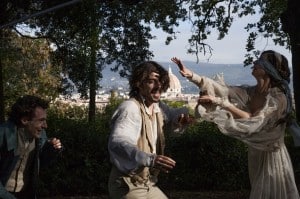 Another Turkish director vying for the Golden Lion in this year's competition is Kaan Mujdeci who makes his debut with SIVAS, that tells the story of an 11-year-old boy and his dog on the steppes. Already we have two contenders for the "Golden Dog" along with Vittorio De Sica's Neo Realist drama UMBERTO D's mutt who appears in the Venice Classics strand this year. Meanwhile British outings are thin on the ground (in the Horizons (Orizzonti) sidebar) and include Duane Hopkins's social-realist crime thriller BYPASS and Guy Myhill's Norfold-set debut drama THE GOOB, starring Sienna Guillory and Sean Harris.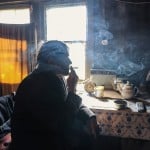 Other highlights from the East include Andrei Konchalovskiy's POSTMAN'S WHITE NIGHTS that depicts an isolated community that live a neolithic lifestyle in contemporary Russia. Iranian director, Rakhshan Bani-Eternad's TALES, Shanghai director, Xiaoshuai Wang's thriller RED AMNESIA (Chuang ru zhe) and, finally, not to be missed in the competition line-up is,  WWII epic drama FIRES ON THE PLAIN (NOBI) – the original 1959 version involved the starvation and privation of its entire crew and cast and is said to be one of Roman Polanski's favourite films. Shin'ya Tsukamoto's remake is one of the most anticipated dramas, starring Riri Funaki (Like Father Like Son) in the lead role and is a fitting tribute to this year's WWII commemorations.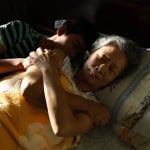 Debut films competing for the Lion of the Future
"Luigi De Laurentiis" Venice Award for a Debut Film
Kaan MÜJDECI, Sivas (Turkey) (Venezia 71)
Naji ABU NOWAR, Theeb (Jordan/U.A.E./Qatar/United Kingdom) (Orizzonti)
Michele ALHAIQUE, Senza nessuna pietà (Italy) (Orizzonti)
Salome ALEXI, Kreditis limiti (Line of Credit) (Georgia/Germany/France) (Orizzonti)
Veronika FRANZ, Severin FIALA, Ich Seh / Ich Seh (Goodnight Mommy) (Austria) (Orizzonti)
Chaitanya TAMHANE, Court (India) (Orizzonti)
Suha ARRAF, Villa touma (Palestine) (SIC)
Stéphane DEMOUSTIER, Terre battue (40-Love) (France/Belgium) (SIC)
Ivan GERGOLET, Dancing with Maria (Italy/Argentine/Slovenia) (SIC)
Timm KRÖGER, Zerrumpelt Herz (The Council of Birds) (Germany) (SIC)
Hoàng Điệp NGUYỄN, Đập cánh giữa không trung (Flapping in the Middle of Nowhere) (Vietnam/France/Norway/Germany) (SIC)
Vuk RŠUMOVIĆ, Ničije dete (No One's Child) (Serbia) (SIC)
Yukun XIN, Binguan (The Coffin in the Mountain) (China) (SIC)
Shawn CHRISTENSEN, Before I Disappear (USA/United Kingdom) (Venice Days)
Mario FANFANI, Les nuits d'été (France) (Venice Days)
Peter HOOGENDOORN, Tussen 10 en 12 (Between 10 and 12) (Belgium/France/Holland) (Venice Days)
Guy MYHILL, The Goob (United Kingdom) (Venice Days)
Adityavikram SENGUPTA, Asha Jaoar Majhe (Labour of Love) (India) (Venice Days) "
THE 71ST INTERNATIONAL VENICE FILM FESTIVAL RUNS FROM 27TH AUGUST UNTIL 6TH SEPTEMBER 2014