BASIL DEARDEN will never join the frontline of British film directors. He won't be canonised, nor does he deserve to be among 'Britain's Best' alongside Michael Powell, Alfred Hitchcock or even David Lean. So is it fairer to classify him with the likes of Roy Ward Baker, Robert Hamer or Val Guest; as a minor director with major virtues, ambitious for authorship? At the risk of sounding derogatory or ironic, is Dearden just an intelligent craftsman?.
In 1962, British film critic Victor Perkins (1936-2016) launched a savage attack on the director: "Dearden typifies the traditional Good Director in the appalling performances he draws from good actors; and in his total lack of feeling for cinema. He sacrifices everything to impact and, consequently, has none." In 1993, Charles Barr in his seminal book Ealing Studios said: "If I were re-writing the book from scratch, Basil Dearden's contribution to Ealing would be handled differently."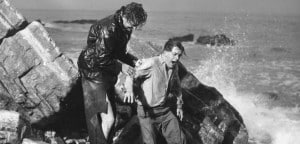 Since then there have been two books on Dearden. And the internet's font of film knowledge IMDB, notes some positive viewer comments, a BFI education link to Sapphire and Victim's high placing, by some critics, in the canon of gay cinema. A customer remark on a Criterion Box set entitled 'Basil Dearden's London Underground (consisting of Sapphire, Victim, The League of Gentleman and All Night Long) puts a convincing case for Dearden: "What Basil Dearden was able to bring to British Cinema during the roughest times in not just the UK but in the world, watching these films today, I was not only amazed and taken back, but I feel proud to have watched cinema that absolutely moved me."
This is a warm and appreciative corrective against the earlier scorn. Yet I wonder if Dearden's 'sociological seriousness' has hindered his appreciation as a fine UK film director? You only have to look him up in the BFI's Encyclopaedia of British Film to think that: "It is now less easy to elide the achievement under patronising adjectives like "liberal" and "safe". Dearden's films offer, among other rewards, a fascinatinating barometer of public taste at its most nearly consensual over three decades." I would drop the word safe, retain liberal as a positive and explore those "other rewards" of Dearden's rich career. I have seen 26 (of his 38 films) and very few are disappointing.
Dearden starts out in the forties with three Will Hay comedies, The Black Sheep of Whitehall (1941) The Goose Steps Out (1942) and My Learned Friend (1943). All entertaining films – the sinister and farcical moments of the last film being his best directed (though with the verbal anarchism of Will Hay, how could Dearden possibly fail?).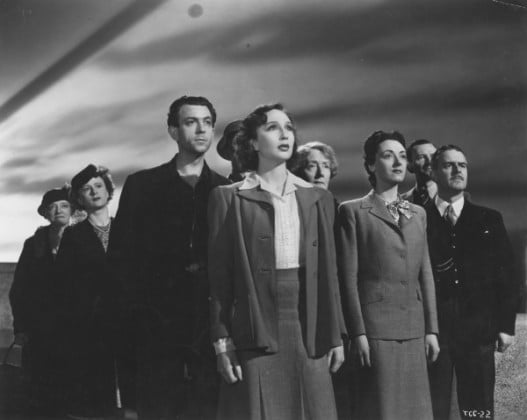 Dearden contributes a notable episode to the 1945 portmanteau film Dead of Night and throughout the 1940s he is embedded as an Ealing Studios director.
The Half Way House (1944) and They Came to a City (1941) – pictured left – are deliberately theatrical films posing questions about (a) war-time dilemmas and loyalties and (b) what is to be done in the post-war world? These films are deliberately didactic but not without visual pleasures. Their message is somewhat crudely stated but they retain an intelligent social concern for British identity that still grips. In the National Film Archive records, They Came to a City is listed as "an unusual film which represented the first attempt to carry out socialist propaganda in the first British feature film" These two films begin the cr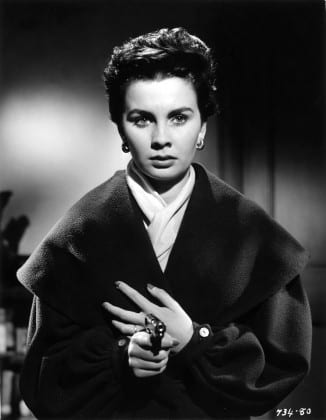 eative partnership of Bail Dearden with Michael Relph. (His contribution was a shared producer-writer-director credit, yet his main creative achievement was as a set designer). The Came to a City and later Saraband for Dead Lovers (1948) have remarkably well realised sets.
Through the 1950's they produced The Blue Lamp (1950); Cage of Gold (1950) right;  Pool of London (1951); I Believe in You (1952); The Gentle Gunman (1952); and The Ship that Died of Shame (1955) and Violent Playground (1958). I have to admit to having a nostalgic soft-spot for a delightful comedy about a flea-pit cinema The Smallest Show on Earth (1957, Of this group of films, The Ship that Died of Shame strikes me as the most interesting. It's a story of wartime seamen who continue, after the war, using their Navy Convoy boat, for smuggling. The Ship that Died of Shame (top left) is a fascinating picture, adapted from a Nicholas Montsarrat story, and contains a superb performance by Richard Attenborough –now behaving like a grown up Pinky (Brighton Rock) minus his psychotic behaviour. As a depiction of post war disillusionment / moral decline The Ship that Died of Shame neatly links up with Dearden's heist drama of 1963, The League of Gentlemen, where British society starts to feel cynical about its old 'heroes.'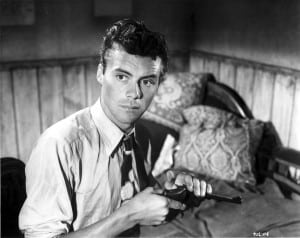 Another noteworthy 1950s film is The Blue Lamp. Yet for me that's still a problem. Its status as social realism is high, and it does give you a sympathetic picture of London's police. But an over-melodramatic tone flaws The Blue Lamp. Particularly Dirk Bogarde's self-conscious performance as a young hoodlum. (Accusations of melodrama have often been levelled at Dearden/Relph's Sapphire, Victim, and Life for Ruth. Yet in those films melodrama, not in itself a negative trait, is thematically better contained and realised). Sapphire, Victim and Life for Ruth can be viewed as a loose trilogy tackling such themes as racism, homosexuality and religious belief. They have often been dismissively called social problem films, as if that where also a problem for the viewer. I prefer to consider them social issue films whose 'messages' are not writ up didactically large. (If you want that please go to the American cinema circa that time and suffer the clunky On the Beach 1962 (Kramer, doing nuclear war) The Victors 1960 (Foreman, doing WW2) and The Blackboard Jungle 1955 (Brooks doing war in the classroom).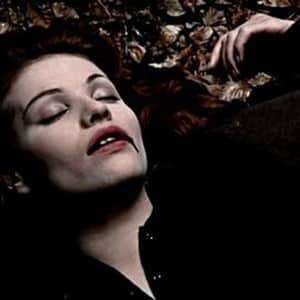 Sapphire (1959) is an outstanding film for four reasons: (1) Its very honest depiction of racism (2) The detail of its police investigation; (3) The technical assurance of a thriller that's both brilliantly economical and (4); Its employment of an expressive Technicolor design.
A woman's dead body is found on Hampstead Heath. The victim is Sapphire a music student of black and white parentage. Sapphire passed for white and frequented night clubs in a black neighbourhood. Superintendent Robert Hazard (Nigel Patrick) leads the criminal investigation. Although they suspect Sapphire's white boyfriend David (Paul Massey) and Johnny, a man Sapphire dated, their attention is also drawn to David's racist father (Bernard Miles). However in the police's probing of David's family complex issues are uncovered. David's paternalistic father (beautifully played by Bernard Miles) is subtly highlighted to reveal the horrible mix of repression, racism and unfullfillment he encouraged to taint his family.
John Hill in 'Sex, Class and Realism – British cinema 1956-63' considers Dearden's 'social problem' film to be creaky (Not so. This is forceful and non-judgemental cinema. Sapphire's 'issues' are effectively worked through the tropes of a crime thriller. With any melodrama kept in check by its visual power – it's a noirish Eastmancolour production. However Hill concedes to Sapphire's 'message': "For the focus of violence (in Sapphire) is not in fact the blacks but the white-middle class family home. The real danger is not the threat without but the sexual repression that is within."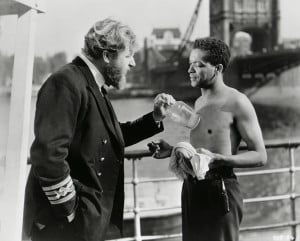 For Hill this creates an irony in that black people are seen as more 'natural' than the white characters in Sapphire. But for me they are not more stereotypically 'natural' simply more open in their relations, and less hypocritical by being 'outside' of English society. Sapphire is a scrupulously balanced film about black and white relations. It won a BAFTA award for best film and was remarkable for its time in being such an astute, multi-faceted picture of a racially motivated crime.
When scriptwriter Janet Green joined Dearden and Relph's production, they really delivered. Green's writing is intelligent, subtle, analytic and must be acknowledged as a crucial part of the equation when assessing the directorial status of Basil Dearden. Her sensitive scripting takes social issues out of any obvious message box, so that screen characters are fully realised. Sapphire's crime movie story has a considerable degree of sharp social observation. Dearden's films now possess an un–patronising liberal urgency.
In Victim (1960) the issue of gay freedom is tackled as powerfully as Sapphire's exploration of racism. And like Sapphire it's another landmark film. Dirk Bogarde plays Melville Farr, a successful barrister happily married to Laura (Sylvia Sims). Farr is contacted by Barrett (Peter McEnery) who appeals for help. He's being blackmailed. The blackmailer has a photo of Farr and Barrett together that possibly suggests a gay relationship. Farr tries to avoid Barrett. Eventually Barrett, who has stolen money from his employers, for the blackmailer, is arrested by the police. In his prison cell Barrett hangs himself. Farr then takes it on himself to discover who's behind the blackmailing.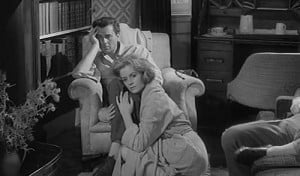 One of the strong points of Victim is that it's such a comprehensive and sensitive picture of a gay London community. Dearden strongly fashions it like a crime thriller. Yet Janet Green's screenplay plays down any melodrama by her empathy with the gay world and such great attention to detail. And both main actors, Dirk Bogarde and Sylvia Sims, are brilliant. Bogarde is made to look like a barrister aged about 50, rather than Bogarde's real age of 39. This gives him a 'safe' feel of respectability, presenting a 'mature' barrister unable to repress his homosexual feelings. Perhaps this was an artistic error, but the complexity of characterisation in Victim prevents any fall into stock representations of 'victimised' gay men. Indeed putting social concerns to own side, Victim is not merely a crusading film about the injustice of illegal homosexual relations in 1961. For near the end of the film, Melville Farr's anguish and hurt shifts to a deeper sense of his probable bi-sexuality. Farr clearly still loves his wife, yet is also pulled towards a love of men that he cannot deny. It's Victim's sense of a more generalised societal repression, blocking a full and workable sexual identity, demanding tolerance and empathy, which makes the film so remarkable.
Of course in today's social and moral climate Victim appears a mild affair. Bogarde is on record of having said "It is extraordinary, in this over-permissive age (1988) to believe that this modest film could ever have been considered courageous, daring or dangerous to make. It was, in its time, all three."
If Sapphire and Victim are concerned to tackle societal repression and conformity, in Life for Ruth (1961) 'intolerance' of religious belief and matters of conscience are closely scrutinised.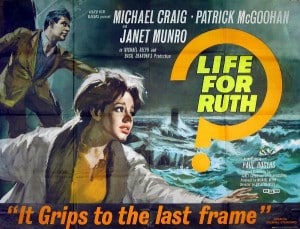 John Harris (Michael Craig) saves his young daughter Ruth (Lynn Taylor) from drowning in the sea. The child needs a blood transfusion. Harris's religious beliefs forbid him to give consent. Ruth dies. Her mother, Pat (Janet Munro) separates from John. Doctor Brown, (Patrick McGoohan) of the local hospital, takes legal action against Harris for what he sees as a needless death of a young girl.
Of the Dearden / Relph 'trilogy' Life for Ruth was probably the least commercial project of the three. The film's storyline making it more a candidate for a BBC Wednesday Play – still a few years down the line. It's a sombre, even tragic film (aided by Otto Heller's bleak grey toned photography) where your moral position on Harris's behaviour constantly wavers. He was wrong to let his child die from not receiving blood. However was the doctor right to 'hound' Harris through the courts? The mother becomes horribly conflicted in her sympathies. Whilst Harris, clinging to his religious creed, anguishes over the terrible decision that he must live with.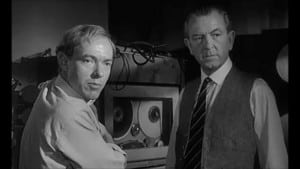 Though sharply edited and full of intense drama, Life for Ruth (unlike Sapphire and Victim) doesn't employ a thriller format. In fact it's closer (but not quite) to British New Wave realism. However Dearden's brand of social realism concerns the rules of religion and the ethics of responsibility, rather than issues of class and power. Life for Ruth is about faith put on trial, hardly a fashionable subject for 1962. I can only think of Bergman's Winter Light (1961) for atmospheric comparison. Though Winter Light is a better and greater film in its dealing with spiritual crisis, the silence of failed relationships and God's absence. Yet by the end of Life for Ruth the viewer is emotionally shaken by what Harris has done and ponder on his fate after his religion has been seen to 'betray' him. Once more, Dearden and Relph are aided by a fine Janet Green script, containing some of her most nuanced writing. "Religion is a tricky business, very tricky-everybody feels, nobody thinks" That's said by a police inspector. A key line in Life For Ruth about the persuasive, and potentially repressive moral authority of religious belief.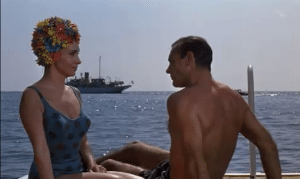 After Life for Ruth, Dearden directed The Mind Benders 1963 (a flawed but compelling thriller about military brainwashing – picture above left) A Place to Go 1963 (A watchable kitchen sink drama worth seeing for Rita Tushingham) Woman of Straw (1963) right; Masquerade (1964); Khartoum (1966) – Charlton Heston starring as General Gordon; Only When I Larf (1968); The Assassination Bureau (1968) and finally The Man Who Haunted Himself (1970), a science fiction drama about a doppelganger, starring Roger Moore.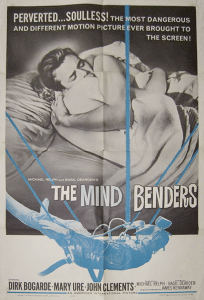 Dearden died in a road accident in March 1971. He was only sixty. His films after The Mind Benders is only partially successful. Perhaps his best work had already been achieved with Michael Relph- both earlier with Ealing and after they left the studio to set up their own productions. "Versatility" is a word often employed to damn Basil Dearden with faint praise. The Times epitaph described him as "A versatile British Director." Inferring that taking your hand to many diverse subjects was a workmanlike and very British drudge. Well Howard Hawks tackled most genres with craftsmanship and artistry. And they were rarely chores. Hawks' versatility is applauded because he is a recognisable auteur. I'm not placing Dearden on the same artistic level as Hawks. Yet both really knew how to finely craft a movie.
At his best Dearden was a maker of serious films of cinematic skill and a passionate integrity. When dealing with issues in British Society he dug deep into cultural pressures and repressions. Perhaps he didn't go far enough, and finally shied away from exposing the full hypocrisy of power – that was more the job of an outsider like Joseph Losey. And he certainly never had Losey's dazzling style. However his films always look good. Not just efficiently good. But striking and imaginative (Noir, early British documentary and Neo-realism cluster round his imagery). Author or not, I respond to Dearden's best films, not out of a sense of moral duty to British cinema, but with a cineaste's genuine pleasure.
Alan Price 
THEY CAME TO A CITY  is released on 23 April 2018 | Bfi Films | Dual Format 2K |  BLURAYS|DVDS AVAILABLE COURTESY OF EUREKA, STUDIO CANAL, CRITERION | AMAZON.CO.UK