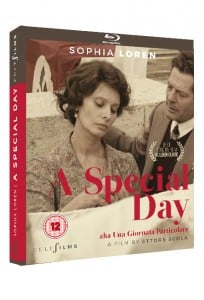 Dir.: Ettore Scola; Cast: Sophia Loren, Marcello Mastroianni, John Vernon; Italy/France 1977, 110 min.
Ettore Scola (1931-2016) usually showed the tragic side of life in Italy in a rather romanticised way, in common with his close friend Federico Fellini. A Special Day is one of his most realist films and, for once, he does not soften his tone.
A SPECIAL DAY is set in Rome 1938 where Italy had joined the Second World War as an ally of Germany and the people are preparing to watch Hitler meeting Mussolini. Antonietta (Loren) stays at home because she is not a friend of the Duce, unlike her husband (Vernon) and the rest of her family, who are out to celebrate the great day. Antonietta's neighbour Gabriele (Mastroianni), a homosexual, is an opponent of the fascist regime, and about to be shipped off to Sardinia. The two get to talk to each other, and Antonietta, unaware of Gabriel's sexual orientation, starts flirting with him. Even though they are both feeling rather low and depressed, they end up in bed.
In the background we hear Hitler's address to the crowd (which actually is his Nuremberg speech of 1934). And there can be no happy end: in the evening, Gabriele is deported, and Antonietta's husband returns, with the intention of making good his promise to the Duce, to produce children for the country now under Fascism.
A Special Day is a low-key affair, and the maudlin atmosphere is caught by the bleached out images of legendary cinematographer Pasqualini de Santis (Death in Venice, L'Argent). Scola directs with great sensitivity: A Special Day is not so much political cinema, but a parable of the coming together of two outsiders, who meet just for a few moments of happiness, before both will embark on a bleak future. A chamber piece full of heart-breaking detail, in its approach strangely close to Käutner's Romanze in Moll, which was ironically produced in Nazi Germany shortly before the end of the war, and was furiously attacked by Propaganda Minister Joseph Goebbels. AS
ON BLURAY COURTESY CULT FILMS | 31 OCTOBER 2016