South Korean films have achieved international recognition since Lee Chang-Dong won best director at Venice Film Festival in 2002 for his film OASIS.  Going from strength and now in its 8th successful year the London Korean Film Festival (LKFF) 7-22 November, is a nationwide celebration of contemporary and classic Korean cinema, with a selection of highlights also showing in Oxford, Bradford and St Andrews between 16-22 November.
[youtube id="pQnLJeo_l1A" width="600″ height="350″]
Huh Jung will be in London this year to present his successful debut, a low-budget home invasion thriller HIDE AND SEEK at a special gala premiere at Cineworld Haymarket on 6 November 2013.
SOL Kung-gu will also be in town to present a special preview of LEE Joon-ik's latest film WISH, a drama that cronicles a true-life tragic crime that shook Korea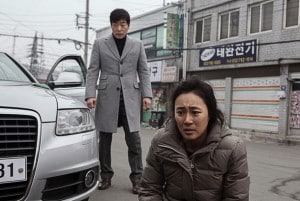 T H E   L A T E S T   F I L M S   F R O M   2 0 1 3
Director KIM Sung-su will be presenting his latest film, THE FLU, a disaster thriller on the scale of CONTAGION that charts the spread of a dangerous epidemic that threatens the Korean Peninsular.
JANG Cheol-soo's comedy spy drama SECRETLY, GREATLY is the story of three undercover North Korean spies living in the South who are forced to undertake a mission 'impossible'.  Also worth a watch is JEONG Keun-seob's kidnap thriller MONTAGE.
There's is a chance to catch up on the recent standouts: YIM Soon-rye's family comedy SOUTH BOUND, actor turned award-winning director YOO Ji-tae's MAI RATIMA, which won the Jury Prize at the Deauville Asian Film Festival and FATAL, LEE Don-ku's a drama that played this year's Berlin Film Festival.
Also from Berlin 2013 comes E J-yong's BEHIND THE CAMERA, An experimental mockumentary about remote filmmaking that blurs the line between fiction and reality, BEHIND THE CAMERA sees the director cast himself as a filmmaker attempting to make a film via Skype in Los Angeles. Without the director's physical presence on set, will the production spiral into chaos? The film explores the production process and elements of reality shows.
Best know for his chaotic action movie THE GOOD, THE BAD AND THE WEIRD, KIM Jee-woon is a talented filmmaker whose distinctive and skilful storytelling style is told using an original visual language.  He will be in London to present a special programme of his favourite short films showcasing his unique visual style, including a Q&A where he will talk about his latest short project ONE PERFECT DAY (2013).
DAY TRIP, Park Chan-kyong's recent drama is a venture from the joint creative team of PARKing CHANce, the collaboration between the media artist and his world renowned  auteur brother PARK Chan-wook.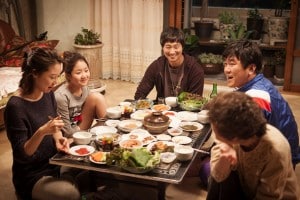 K O R E A N   C U L T   C L A S S I C S
Other highlights to watch out for are cult classics PUBLIC ENEMY (2002) a crime thriller from Kang Woo-suk, who will be in London to attend a 'directorspective' of his successful outings along with his latest film FISTS OF LEGEND (2013) an urban action drama.
Other cult classics in the retrospective are TWO COPS (1993), SILMIDO (2003), MOSS (2010), and the acclaimed sequel PUBLIC ENEMY RETURNS (2008).
To celebrate the 60th Anniversary since the Korean War Armistice, three classic Korean war films depicting the strife and the effects on families, friendships and the soldiers who fought, are also screening: SHIN Sang-ok's THE RED SCARF (1964) and LEE Man-hee's MARINES ARE GONE (1963) and LEE Kang-cheon's PIAGOL (1955).
The festival closes on the 15 November with a drama starring HOUSEMAID'S, YOUN YuhJung who plays the family matriarch in a story that explores the shifting dynamics when three adult children return to the fold, BOOMERANG FAMILY.  She will present the Closing Night Gala alongside her co-stars. 
LONDON KOREAN FILM FESTIVAL 2013 WILL RUN FROM 7-15 NOVEMBER IN LONDON AND 16-22 IN OTHER UK VENUES.