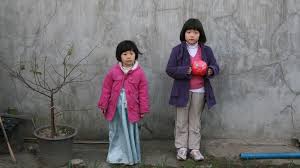 NA-NOO-COBS-NEUN-SAN
Dir.: So-yong Kim; Cast: Hee Yeon Kim, Songhe Kim, Lee Soo Ah, Mi-hyang Kim, Boon Tak Park; USA/South Korea 2008, 89 min.
Two young children are passed around like parcels in So-yong Kim's touching but unsentimental study of child development and sisterly love.
This thoughtful study of childhood trauma relies largely on its delicate visuals and great subtlety to explore the little girls' world with a charming lightness of touch.
In Seoul, six-year old Jin (Yeon Kim) and her younger sister Bin (Songhe Kim) live with their mother (Lee Soo Ah) in reduced circumstances. Their father is no longer on the scene, forcing their mother to take them to the country where they will live with their great-aunt (Mi-hyang Kim), who just happens to be an alcoholic. Eventually, they are dumped on their elderly grandparents who run a farm.
The story revolves around their changing relation dynamic. At first, Jin is the strong one, bolstered by her school life and feeling of superiority. But when her mother decides to leave, Jin starts wetting the bed – a clear sign of insecurity. Not surprisingly, Bin is less affected by the new surroundings in her aunt's house, and while Jin continues to wet the bed, their aunt mistakenly blaming her little sister for it.
Bin soon becomes the practical one, catching grasshoppers and roasting them to sell. She also finds a good way of filling their mother's pink piggy bank with the coins for her speedy return. But Jin becomes introverted, desperate to see her mother, who never appears despite her promise. And so the kids wait in vain on the treeless mountain, before Jin declares "Mummy has told a big lie."
Bin soon loses all enthusiasm, whilst Jin perks up, once again asserting her authority as the older girl. On the farm, their caring grandmother (Boon Tak Park), takes over the motherly role the kids desperately need, offering them the patience they will need to develop into secure teenagers.
This sensitive hommage to Bresson's Mouchette and Jacques Dillon's Ponette, Treeless Mountain lets Anne Misewa's exquisite camerawork do the talking, concentrating on the intricate expressions of childhood joy and dismay. A moving exploration of childhood that makes a lasting impression. AS
London Korean FILM FESTIVAL 2018 |