Director: Alain Gomis  Writer: Alain Gomis  Dialogue: Djolof Mbengue
Cast:  Saul Williams, Djolof Mbengue, Anisia Uzeyman, Aissa Maiga
France/Senegal  86mins
Saul Williams plays Satche in this hauntingly bittersweet drama from French Senegalese director, Alain Gomis. A fit and well-educated man wakes up in his mother's house near Dakar and knows instinctively that this day he will die.  Friends and family gather round and share their candid thoughts about his life.  And it's not all  good.  Some are far from complimentary but given with grace and a sincerity leavened with tolerance and good humour of their long associations with him.  Anger and bitterness are expressed and released naturally for all to hear in the warm sunshine of this final day in his life.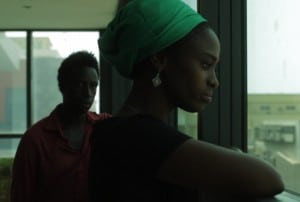 As Satche drifts seamlessly through the pastel-coloured streets of his neighbourhood friends rush to greet him laughing and joking.  He's popular and good-natured. There's a sense of spiritual acceptance tinged with dread about his impending fate.  Will it be shocking or painful? Will he just serenely slip away?  These thoughts swirl round like the empty paper cups in the local town square where a ceremony to celebrate his life has already taken place – without him.  After breakfast with his best friend Sele (Djolof Mbengue) he visits an elegant ex-girlfriend (Aissa Maiga) who tries to in vain seduce him for the last time.
There is a silent scene spent in languorous love-making with his partner Rama and they relax in harmony as the sun goes down.  His mind jumps forward in future reverie to see the kids grown-up in a wonderfully shot sequence.  This is a surreal but quietly contemplative study embued by Crystel Fournier's cinematography that makes great use of the unique light and gentleness of this French-flavoured West African country where everyone wears their heart on their sleeve and lives in harmony with the rhythm of nature.
Meredith Taylor ©
TEY IS SCREENING AS PART OF THE AFRICAN ODYSSEYS STRAND AT THE BFI TOGETHER WITH OUSMANE SEMBENE'S BOROM SARRET