TORONTO INTERNATIONAL FILM FESTIVAL runs from 8 September until 18 September and follows in the wake of VENICE (31 August – 10 September) with a new crop of world premieres and a chance to catch up on the latest films from Cannes and Venice earlier in the Summer.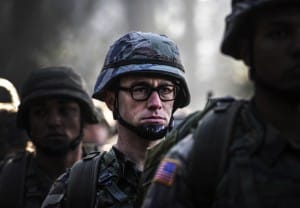 All the gala titles are world premieres, except for Denis Villeneuve's ARRIVAL, a sci-fi drama starring Amy Adams and Jeremy Renner, and Jeff Nichols' interracial drama LOVING, which has Joel Edgerton and Ruth Negga, and prems at Venice.
The festival opens with Antoine Fugua's version of the bounty hunting epic adventure THE MAGNIFICENT SEVEN starring Denzel Washington and Ethan Hawke, and the closing film is Kelly Fremon's directorial debut THE EDGE OF SEVENTEEN, a comedy drama exploring teenage awkwardness and angst.
World premiers include Oliver Stone's long-awaited biopic SNOWDEN (left) with Joseph Gordon-Levitt as the NSA whistleblower and Rob Reiner's LBJ, a drama that shines light on the life  former president Lyndon Johnson played by Woody Harrelsen. It also stars Jennifer Jason Leigh, Bill Pullman and Richard Jenkins.
Music lovers will be delighted by the inclusion of OLÉ OLÉ OLÉ, Paul Dugdale's biopic that follows The Rolling Stones' Latin American and Jonathan Demme's latest: a concert film about Justin Timberlake's 20/20 Experience World Tour, Las Vegas concert, entitled JT + THE TENNESSEE KIDS.
Katherine Dieckmann's STRANGE WEATHER, a drama set in the Deep South stars Holly Hunter and Rooney Mara is cast in the leading role as a mental patient in Jim Sheridan's THE SECRET SCRIPTURE. She also stars alongside Nicole Kidman and Dev Patel in Garth Davis' LION which is based on Saroo Brierley's autobiographical novel A Long Way Home that follows a 5-year-old Indian boy through the streets of Kolkata, eventually ending up in Australia.
Two British film will premiere this year at TIFF. THEIR FINEST directed by Lone Scherfig, has Sam Clafin and Gemma Arterton and A UNITED KINGDOM, Amma Asante's drama starring David Oyelowo and Rosamund Pike. The French will be represented by Grand Central helmer Rebecca Zlotowski whose PLANETARIUM again stars Lea Seydoux in a story about two sisters (Lily Rose Depp) with supernatural ability.
There will finally be a chance to see Werner Herzog's latest, hot from Shanghai, SALT AND FIRE is a disaster film that stars Michael Shannon and Gael Garcia Bernal, and Mick Jackson's Holocaust-themed drama DENIAL which stars Rachel Weisz and Timothy Spall.
BIRTH OF THE DRAGON | George Nolfi
CITY OF TINY LIGHTS | Peter Travis | Billie Piper
KING OF THE DANCEHALL | Nick Cannon |
SING | Garth Jennings | Matthew McConaughey, Reese Witherspoon, Scarlett Johansson
THE JOURNEY | Nick Hamm | Colm Meaney, Timothy Spall
TRESPASS AGAINST US | Adam Smith | Michael Fassbender, Brendan Gleeson
THE WASTED TIMES | Zhang Ziyi, Ge You
I AM NOT MADAME BOVARY | Feng Xiaogang
ORPHAN | Arnaud des Pallieres |  Gemma Arterton and Adele Haenel
THE LIMEHOUSE GOLEM | Juan Carlos Medina | Bill Nighy, Olivia Cooke.
The Toronto International Film Festival | 8-18 SEPTEMBER 2016