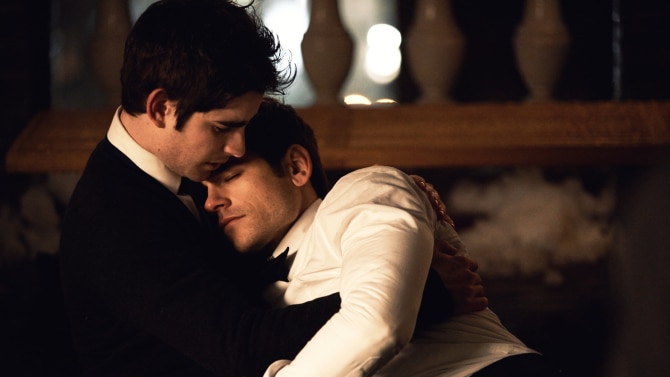 Writer|Director: Joey Kuhn
Cast: Jonathan Gordon, Jason Ralph, Haaz Sleiman, Britt Lower, Meghann Fahy
89min | Drama | US
Writer director Joey Kuhn's impressive, if at times melodramatic, debut exudes the highly polished charisma of its educated, preppy Manhattanites. Well-groomed and articulate, they sip cocktails and Pinot Noir in sophisticated jazz bars on the Upper East Side, sing Gilbert & Sullivan songs and, at Rosh Hashanah, their schuls are full of white roses and beautifully-dressed women. Gay sensibilities are worn romantically on the hand-tailored sleeves of these debonair types who have names like Sebastian and Ursula, and they say things like: "You came out of the womb with a Masters in queer theory" – what ever that may be.
Jonathon Gordon plays Charlie, a painter completing his MFA, who is close to his wealthy school friend Sebastian (Jason Ralph)—so close, he even paints a large portrait of him, insinuating that relationship is more that purely platonic. Sebastian is obsessed with his financier father, a Wall Street criminal ("the most hated man in New York") who is serving time in an open prison.
Neither is short of male admirers and although Charlie has feelings for Sebastian he soon attracts the attention of the more emotionally mature Lebanese concert pianist Tim (Hanz Sleiman) whose suspects Charlie's emotional involvement with Sebastian and constantly quizzes and baits him: "does he play Chopin as well as I do". The two grow close as they tumble through the early days (and seductive nights) of a classically-scored love affair. Their cleverly-lit embraces and highly romanticised sex scenes have an ethereal quality to them that focuses on kissing and pillowtalk rather than raw passion.
Sumptuously crafted, sensitive and contemplative, Kuhn's narrative hints at the fear of intimacy amongst these young men haunted by the ghosts of their fathers. They have close women friends too who serve as a counterpoint to their emotional barometers, and provide interest for arthouse audiences, beyond just the LGBT crowd.
Performances feel genuine and heartfelt and Hanz Sleiman is particularly convincing in a softly-spoken role that is beautifully pitched and soulful. The storyline is slim and ultimately rather unsatisfying but well-scripted with some perky dialogue and Adam Crystal's brilliantly evocative original score that elevates this into something special. Joey Kuhn is a young director worth watching. MT
SCREENING DURING THE UK JEWISH FILM FESTIVAL 2015 | 7 – 22 NOVEMBER | NATIONWIDE