Dir.: Davis Simanis; Cast: Petr Buchta, Inga Salina, Girts Kesteris, Lauris Dzelzitis, Eduards Johansons, Edgards Kaufelds, Gints Gravelis, Uldis Silins, Daniel Sidon, Janis Putnins; Czech Republic, Latvia, Lithuania, Czech Republic | 2021, 95 min.
This stylish third feature from Latvian historian and now filmmaker Davis Simanis is a tour-de-force artfully imagining the final events of 1913 before the outbreak of war. Shot in black-and-white and combining the aesthetics of early cinema with a surrealist twist, it is a ravishing odyssey of ideas and their main protagonists seen through the eyes of nascent revolutionary Petr on his peripatetic journey through a Europe in turmoil. Romantic passion, world revolution, psychoanalysis, and seduction: Simanis' inspired drama bubbles with ideas in a caldron of change heralding the 20th century when Europe and the world would be transformed forever.
We start the journey in Riga on New Year's Day 1913. A young fisherman drowns himself in an icy lake "he wants to be with the fish, who know the secret of death". Meanwhile Petr (calling himself Hans), a doorman in a posh hotel, is fired on suspicion of revolution ideas.
With the arrival of Spring Petr has made it to Switzerland, shooting his newly acquired gun into the air with a triumphant flourish. Somehow he wanders into the "Lebensreform" sanatorium where patients are  dancing around naked to escape the ravages of TB and psychosomatic illness.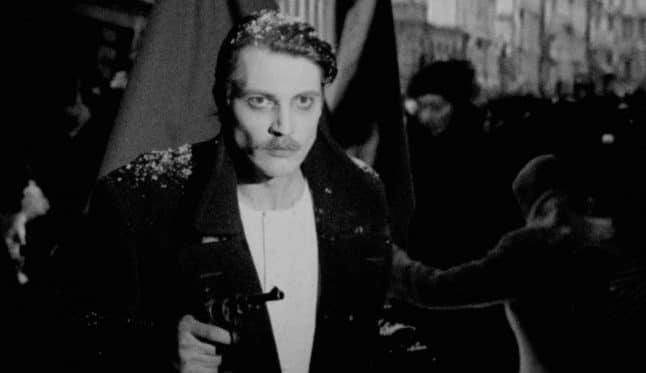 Petr meets the philosopher Wittgenstein (Silins); and later, at a séance, Alma (Salina), who could  be the future spy Mata Hari. Alma is an emotional woman, full of wild and passionate expression and we see her before an audience in a cinema tent, where Biograph pictures are being shown. Alma will reappear in later episodes, emerging as an increasingly enigmatic seductive figure for Petr.
In June, our hero visits Prague and decides to enlist, running into Trotsky (Gravelis) at a political rally. Later in July, the trigger happy Petr visits Vienna where his gun comes in handy for more attacks on the establishment, shooting at a well known politician. Later, in London he will be hailed a hero as more political enemies come under fire. But by August he is already tired of all the killing.
Summer draws to a close and Petr, now in Riga, sees Alma again. He also has a brush up with Lenin (Dzelzitis). Moving to Prague in September, he visits Freud (Kesteris), who, not un-surprisingly, diagnoses Petr with an Oedipus complex, after he expressed his desire to kill his father (who has died in the meantime). The narrative gets more unhinged, with an orgy, an empty coffin and forays to government offices. At a demonstration we spot Schicklgruber (Kaufelds), who tries to break up the anarchist meeting.
All good things come to an end, and finally, Petr must face the music. Winter is once again closing in and Lenin reappears to give him instructions for the planned revolution. The film draws to a close on New Year's Eve in Riga where Alma begs him to leave and let her die. We somehow jump forward to the Great War, where symbolically Petr satisfies his gnawing hunger by boiling and eating a human hand. He is called by his comrades Petr Ivanovitch, but still insists on being called Hans. By now he is a prosecutor in a Stalinist system, condemning dissidents to death, he "cannot see any meaning at all".
A visual triumph for DoP Andrejs Rudzats and PD/Kristina Jurjane whose black and white camerawork leads us on a magical journey  brimming with intrigue. The second half of the feature could easily have been scripted by Kafka. Sidon, who makes a guest appearance is able to re-imagine the atmosphere of the Golem series, and Jurjane is equally brilliant at re-building cities, as we have seen in the cinema of German Expressionism. There is so much to be admired that – for once – an extra thirty minutes of this stunningly torrid rush of imagination would be most welcome. AS.
Rotterdam Film Festival | BIG SCREEN COMPETITION.