Director: Robin Hardy               Writer: Anthony Shaffer
Cast: Edward Woodward, Christopher Lee, Ingrid Pitt, Diane Cilento, Britt Ekland
88mins   Cult/Mystery Thriller        UK
THE WICKER MAN is not actually a horror film, more an occult drama of brooding malevolence with a total lack of blood and gore. Anthony Shaffer (Sleuth) purposely set out to script a film that was devoid of  carnage, yet one that succeeds in provoking an unsettling feeling and a palpable sense of dread from the opening sequences when Edward Woodward, as Sergeant Howie, arrives in the small and remote Scottish fishing community.  A man alone in an unknown and hostile place, a missing child, a secret couched in suspicion and folklore are the simple elements that slowly coalesce to fuel our atavistic fears. Hardy weaves a web of uncertainty and unfamiliarity, sending messages of alarm and shivers of discomfort as we are drawn in to this dread-filled drama which went on to win the Saturn Award from the Academy of Science Fiction, Fantasy and Horror in 1979. Even that has a sense of weirdness to it.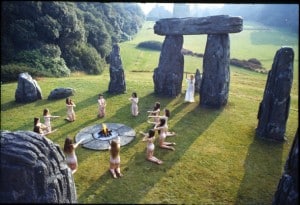 Of course, no one will forget the eerie soundtrack of haunting tunes written and performed by Paul Giovanni or Britt Ekland as Willow, the coyly seductive daughter of the publican. Music plays an important role in the film, often leading the narrative forward as when Willow dances naked in her bedroom. Edward Woodward goes from a confident and commanding police officer to a whimpering, doubt-ridden wreck and Christopher Lee is masterful as the flamboyant and powerful Lord Summerlisle, head of the pantheistic pagan clan.
The story is plausible. Woodward arrives to investigate a missing girl and, being a stalwart Christian bloke,  has no truck with the locals and their flimsy suspicions and Druid and Celtic Gods. But then there's the sexual twist.  Couples make love openly in the street and Ekland offers herself to Woodward without any sense of shame and posing winsomely in 'Baby Dolls'.  The investigation turns tricky, hampered by lack of information and anybody in the village admitting the girl's actual existence.
Naturally, we take the Policeman's side although he's not altogether an appealing character or an endearing one, for that matter. The religious zeal of the locals is what starts to give a sinister twist to the proceedings as it dawns that these people will go to any lengths for their beliefs. And that, as recent history has shown us, is ultimately the most frightening element at play.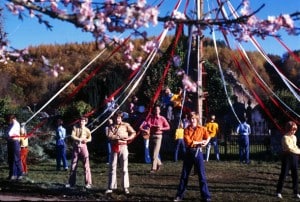 The final shocking scenes will remain burnt to the brain cells of everyone who has ever seen this thriller.  But more than that, the universal appeal is that it raises questions that are existential and evergreen in nature and that link us to our distant past and to our future in a way that's memorable, unnerving and relevant to all our lives today. MT
THE WICKER MAN IS NOW OUT ON BLURAY