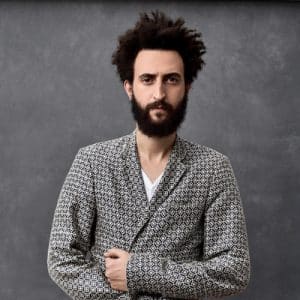 Dir.: Alaa Eddine Aljem; Cast: Younes Bouab, Salah Bensalah, Bouchaits Essamak, Mohmed Naimane, Anas El Vaz, Hassan Ben Bdida, Abdelhaini Kitab, Ahmed Yarziz; Morocco/France/Qatar/Germany, Lebanon; 100 min.
Alaa Eddine Aljem's debut feature is a little gem: filmed with great confidence, it is the story of a thief in a small Moroccan desert village trying to recover his loot, while the villagers pray for rain. In tune with its sun-baked environment the tautly inventive narrative unfolds in a languid style in scenes showcasing the fleshed out characters and talented cast.
On the run from the police, a young thief Amine (Bouab)has just time enough to bury his booty on a desert hill, camouflaging the scene as a modest grave. Ten years later, Amine and his accomplice, simply called "The Brain" (Bensalah) for his lack of the grey matter, return to discover a Mausoleum for an unknown Saint has been built over the grave. No rain has fallen for over a decade and the villagers are desperate; one of them, Hassan (Essamak) wants to go elsewhere, but his father Brahim (Naimane), the religious leader of the village holds him back. Then there is Aziz (Kitab), the self-appointed mausoleum guard who treats his son with contempt, his life revolving around his Alsatian dog. For some unknown reason, the new doctor (El Baz) is only getting women patients at his surgery. His long suffering nurse (Ben Bdida), who survives on alcohol and weed, explains that the women use the surgery as a "hangout", while collecting their prescriptions. Meanwhile, Amine and his helper wonder how to tackle Aziz so they can recover the loot. This is a sinuous and slow-burning drama with just enough irony not to reduce it to a farce. The characters are larger than life, appealing despite their foibles and full of humanity and charm. Even the two criminals come across as incompetent bunglers rather than hard-edged thieves. DoP Amine Berrada uses the desert as a majestic background, his panoramas are impressive, particularly the night shots. Judging by this impressive debut, Aljem is a filmmaker with a bright future ahead of him.  
SEMAINE DE LA CRITIQUE | Wednesday 15 May 2019 |11.30am