Dir.: Bruce Weber; Documentary with Paolo di Paolo; Silvia di Paolo, Marina Cicogna, Bernardo Bertolucci, Pier Paolo Pasolini; USA 2021, 109 min.
US director/co-writer Bruce Weber (Let's Get Lost) re-discovers one of Italy's most influential photographers: Paolo di Paolo, born in the small town of Larino, in 1925. He photographed all the stars of Italian post-war cinema from 1949 and 1968: Anna Magnani, Marcello Mastroianni, Sophie Loren, Gina Lollobrigida and Pier Paolo Pasolini, to name but a few. But had it not been for Giuseppe Casetti, the owner of the Maldoror bookshop in Rome, Paolo's archive would have never seen the light of the day, let alone two major exhibitions.
Paolo di Paolo, vivacious as ever in his mid 90s, still has the train ticket from Larino to Rome where he would study philosophy, his "escape" back in 1949. Growing up during twenty years of Fascism such luminaries as Thomas Mann, Ernest Hemingway had also escaped him until then, along with US music. Joining 'Il Mondo', a magazine founded by Mario Pannunzio in 1950, he fell in love with the camera, in this case a 'Leica'. Pannunzio was an excessively intellectual editor-in-chief, his staff joked that the magazine had more authors than readers.
For Pannunzio, photos told a story, they were an autonomous narrative. The magazine became the training ground for great photographers, every shot had to be "like a piece of theatre". Paolo's coterie included the filmmaker Roberto Rossellini and the writer Alberto Moravia. Actress Anna Magnani, whose son had polio, set di Paolo a strict set of rules for their sessions. Pier Paolo Pasolini became a close friend, his photo of the director at the tomb of Gramsci is one of the iconic images of Italian political history. There is a visit to di Paolo's old friend, the film producer Marina Cicogna, who produced, among others, Bunuel's Belle de Jour and Pasolini's Teorema. Cicogna, who lived for over twenty years with the actor Florinda Bolkan, recounts how Pasolini was well aware of the 'death wish', before his murder in Ostia. The poet and director was deeply religious, and could not accept his homosexuality in this context. Bernardo Bertolucci reminisces about first meeting Pasolini on a Sunday afternoon at his parent's front door. He took Pasolini for a thief and locked him out before telling his father he had a guest. Both filmmakers look back with laughter at the memory.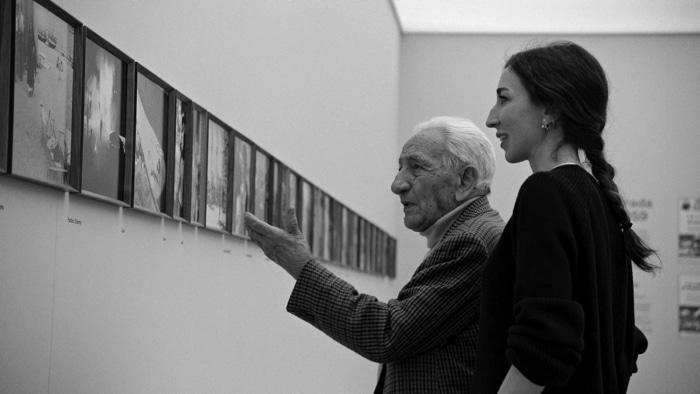 Silvia, ii Paolo's daughter, now looks after her father's archive and runs his life, freely admitting how difficult he can be. She sets up a Zoom call with fellow photographer Tony Vaccaro, from the same generation, who grew up in small-town Pennsylvania, becoming a war photographer, before later settling for fashion photography. "The smell of our homes is still in our nostrils" comments Di Paolo.
The end is impromptu and not at all what Weber had in mind: di Paolo gains access to the backstage photography at the Valentino Couture fashion show in Paris' Place Vendome. The 94-year climbs onto a step ladder to take photos, feeling invigorated by the experience he expresses a desire to live in Paris: He was back in the saddle after given up in 1968 when 'Il Mondo' was forced into liquidation and TV took over the newspaper media agenda, di Paolo turning his attention back to philosophy and history.
Treasure is a rhapsody in black and white: somehow di Paolo's photos and the archive images from TV and newsreel fail to coalesce aesthetically with DoP Theodore Stanley's own shots in the trip back to Larino. But the film clips from the "Golden Age" of Italian cinema round up a bravado lesson in film history. Exciting and informative. AS
NOW SCREENING DURING COPENHAGEN DOCUMENTARY FILM FESTIVAL 2022