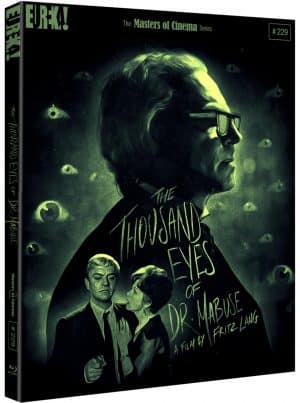 Dir.: Fritz Lang; Cast: Peter van Eyck, Dawn Addams, Gert Fröbe, Werner Peters, Wolfgang Preiss, Lupo Prezzo, Reinhard Kolldehoff; Germany/Italy/France 1960, 103 min.
Fritz Lang (1890-1976) goes back to the beginning with his final output: The Thousand Eyes of Dr Mabuse: there is the re-emigrant Lang, making his last of three films in West Germany, finishing his career with completing the Mabuse trilogy that started with Mabuse the Gambler (1922) and The Testament of Dr. Mabuse (1932). Joining fellow Hollywood re-emigrant Peter Van Eyck, Lang concentrated on the Nazi spirit of evil, still virulent in West Germany, and his favourite topic: machines versus humans. Based on the novel by Polish author Jan Fethke and using the Mabuse character created by Norbert Jacques, The Thousand Eyes is a melancholic good-bye from one of 20th century's greatest directors, who had forged his career in the early days of silent film.
Having promised his radio station an impressive scoop, a reporter is murdered in his car. Meanwhile in the Hotel Luxor, where the Nazis used spy on the clientele with hidden microphones, wealthy American Henry Travers (Van Eyck) saves the live of fellow guest Marion Menil (Addams) not once but twice: he saves her from committing suicide, then kills her club-footed husband Roberto (Kolldehoff) with a single shot. A voyeur is in control of the hotel, watching every room via TV: the new Mabuse is after Travers' nuclear plans to dominate the world. But detective Kras (Fröbe) is puzzled by the identity of the evil genius: is it the ubiquitous salesman Hironymos B. Mistelzweig (Peters); the blind clairvoyant Cornelius (Prezzo), or the enigmatic Professor Jordan (Preiss)?
The Thousand Eyes is a feature of double mirrors: every scene is connected to the previous one. Each take is followed by something "directed" by the evil genius. As in Metropolis, the story is one of triumph and destruction of a machine come alive. This Mabuse is the very much in the spirit of the 1932 feature: Hitler using technology first to conquer Germany, then the world. But this Mabuse is more creative than ever: he makes friends, divulging his secrets to them, only to destroy them when they are no longer of use. He is subversive, hoping to change the power structure from within.
Sadly DoP Karl Löb's black-and-white images lack elegance and fluidity, short-changing the feature along with the German cast who are anything but enigmatic or unfathomable: they were the same actors who played clichéd characters in the UFA re-makes of the era – at a time when the Nouvelle Vague in neighbouring France was re-inventing cinema. So we often get second-hand emotions, and bemusement instead of real angst. That Lang's last feature is still by far the most interesting of the era in West Germany's post WWII film history speaks for itself – the era was  dominated by caricature thrillers based on the work of British author Edgar Wallace, who met deadlines by dictated his books from London phone boxes. No fewer than six Mabuse 'thrillers' were produced in the next decade in Germany, Lang was eventually forced to retire after his eye-sight worsened. AS    
ON BLU-RAY FOR THE FIRST TIME IN THE UK ON 11 MAY 2020