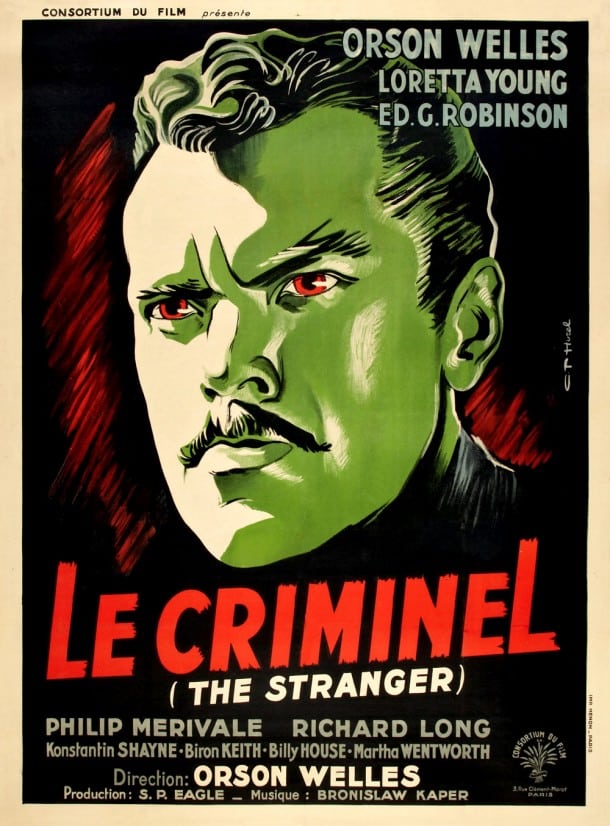 Director: Orson Welles  Writers: Anthony Veiller
Cast: Loretta Young, Edward G Robinson, Orson Welles, Richard Long, Philip Merivale, Martha Wentworth
95min   Film Noir   US
Based on Victor Travias' Oscar nominated original story of the same name, THE STRANGER earned Orson Welles a nomination at the Venice Film Festival, although he claimed it was the least favourite of his films. And it's not difficult to see why.
The first film after World War II to show actual footage from the concentration camps, this restored classic noir stars Edward G Robinson, Orson Welles and Loretta Young in standout performances, particularly for Edward G. who plays Mr Wilson of the War Crimes Commission, tasked with seeking out Nazi war criminal and architect of the Holocaust, Franz Kindler (Orson Welles). Erasing all evidence of his past, Kindler is now Charles Rankin, a high-school teacher married to the headmaster's daughter Mary Longstreet – a luminous Loretta Young who is forced to divide her loyalty between respect for her father and love for her husband, a masterful but manipulative Welles.
In order to entrap Kindler, Wilson releases his former comrade Meinike (Konstantin Shayne) from prison and follows him to Connecticut. With the arrival of his ex-Nazi comrade and his wife's growing suspicion, Kindler knows that his past is catching up with him and will go to any lengths to prevent his identity being revealed. Noirish shadows pravail in this small town setting of decent, law-abiding folk. But Welles centres his thriller on the local church, a beacon of respectability but also a focus of fear. A real gem and Welles' most successful film at the box office.
IN CELEBRATION OF THE CENTENARY OF ORSON WELLES' BIRTH, MR BONGO RELEASES A BRAND NEW RESTORED 50TH ANNIVERSARY EDITION OF FALSTAFF CHIMES AT MIDNIGHT (FROM 1 MAY 2015), AND DVDS OF TOO MUCH JOHNSON, IMMORTAL STORY AND THE STRANGER