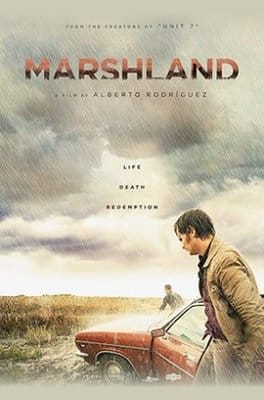 A selection of the latest Spanish films arrives in London on 17th April, with a chance to see multi-award-winning Noirish thriller LA ISLA MINIMA (Marshland) before it goes on general release this Summer.
LA ISLA MÍNIMA | Marshland
dir. Alberto Rodríguez, with Raúl Arévalo, Javier Gutiérrez, Antonio de la Torre, María Varod | Spain | 2014 | col | 105 mins | cert. 15 | In Spanish with English subtitles | London Première / Special preview courtesy of Altitude
Two ideologically opposed detectives are sent to the Guadalquivir river marshes to investigate the disappearance of two teenage girls during the small town's festivities only to discover that they have been brutally murdered and that there were many others before them. Marshland is a noirish and gripping thriller in which everything feels slippery as the marsh itself and, for this, oppressively real. Sevillian Alberto Rodríguez and long-time co-writer Rafael Cobos create here a captivating atmosphere thanks in part to their knowledge of the area and the depth of the characters. The film was the absolute winner at this year's Goyas with ten awards including Best Picture, Best Director and Best Actor (Javier Gutiérrez).
Followed by a Q&A (tbc)
Enjoy a glass of Albariño wine courtesy of Martin Codax from 7.45pm
Fri 17 April | 8.40pm | £12, conc. £10
10.000 km (main pic)
dir. Carlos Marqués-Marcet, with Natalia Tena, David Verdaguer | Spain | 2014 | col | 99 min | cert. 13 | In Spanish with English subtitles
10,000 km makes reference to the distance between Los Angeles and Barcelona, the distance between Alexandra and Sergio, who love each other but have to spend one year apart with their computer as the only tool to fight for their love and keep it alive. Based on the director's own experience when he had to leave Barcelona, family and friends, the film is a reflection on the immediacy of communication nowadays and how there are certain things that cannot be substituted and that are key to our lives, such as touch and smell.
Fri 17 April | 6.30pm | £12, conc. £10
Sun 19 April | 5.00pm | £12, conc. £10
LA VIDA INESPERADA | The Unexpected Life
dir. Jorge Torregrossa, with Javier Cámara, Raúl Arévalo | Spain | 2013 | col | 105 min | cert. 13 | In Spanish with English subtitles | UK Première
"Primo" lives in Spain and, between jobs, decides to pay a visit to his cousin Juanito, who lives in New York City and works as an actor. Shortly after his arrival both cousins realise that the other's life is not as good as it seemed. Written by Elvira Lindo and based in New York City, where the Spanish artist spends part of her time, La vida inesperada is a delightful romantic comedy about the uncertainties of life avoiding cultural stereotypes. Javier Cámara and Raúl Arévalo, two of Spain's finest character actors, wander the streets of New York trying to find a sense to their lives when nothing is what it looks like.
Followed by a Q&A with the director
Sat 18 April | 6.30pm | £12, conc. £10
TODOS ESTÁN MUERTOS | They Are All Dead
Dir. Beatriz Sanchís, with Elena Anaya, Nahuel Pérez Biscayart, Angélica Aragón | Spain | 2014 | col | 93 mins | cert. 13 | In Spanish with English subtitles
Beatriz Sanchís debut feature, is an inspiring film mixing evocative Mexican magic realism touches with 80s style music reminding the Movida madrileña, in which pragmatic Paquita invoques his dead son Diego to come back amongst the living to force her daughter Lupe to take responsibility for the education of her son Pancho. Best known to British audiences for her roles in Julio Medem's Sex and Lucía and Pedro Almodóvar's The Skin I Live In, Elena Anaya delivers a stunning as well as moving performance as the traumatised ex-music star overwhelmed by guilt feelings for the death of her brother. Both Anaya and Sanchís received several Best Actress and New Director nominations.
Followed by a Q&A
Sat 18 April | 8.50pm | £12, conc. £10
dir. Daniel Monzón, with Luis Tosar, Jesús Castro, Eduard Fernández, Sergi López, Ian McShane, Bárbara Lennie | Spain | 2014 | col | 136 mins | cert. 15 | In Spanish with English Subtitles | Screening courtesy of Studiocanal
After Cell 211's hit, Daniel Monzón comes back with an enthralling drug-trafficking action film based in real facts and set in the Strait of Gibraltar enriched by the presence of the social background. With stunning visuals and an impressive cast, the film follows El Niño ("The Kid", superbly played by newcomer Jesús Castro) who, with his friend El Compi ("The Buddy"), dreams of a better life and thinks he can get it by running drugs across the Strait in his jet ski. After him are four very human cops…
Followed by a Q&A (tbc)
Sun 19 April | 7.30pm | £12, conc. £10
THE LONDON SPANISH FILM SPRING WEEKEND | 17 – 19 April 2015