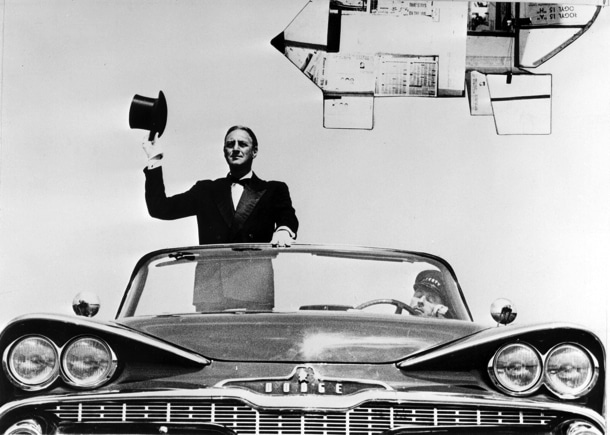 Walerian Borowczyk (1923-2006) was born in Poland, where he studied painting. His film career started with a series of posters and black and white animated shorts films in collaboration with Jan Lenica. After emigrating to France in 1959 he worked with Chris Marker on LES ASTRONAUTS. In RENAISSANCE (1963), he uses a reverse motion technique to create innovative often violent images: an owl, a trumpet, a desk are pictured breaking into a musical march, and then blown to smithereens.
L'ENCYCLOPEDIE DE GRANDMA EN 13 VOLUMES (1963) is a race involving veteran cars in spectacular collisions on an aqueduct, before encountering a balloon, which comes face to face with a zeppelin. A visual persiflage that is always surprising and different.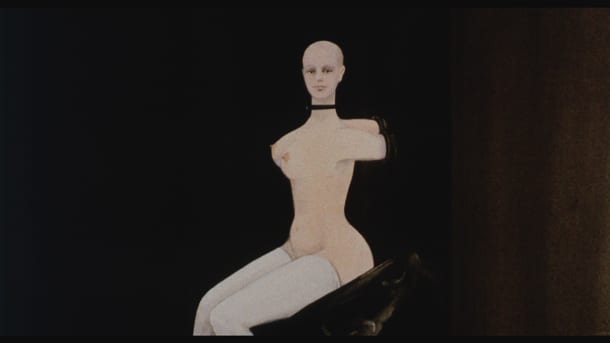 LES JEUX DES ANGES (1964) is homage to the victims of Auschwitz. Cut out graphics show a slow train journey where enigmatic forms emerge: a woman is cut in half, a bird comes out of a grave, covered in grass. Other undefinable objects turn into birds. The forms are distorted, the darkness prevails. Haunting and enigmatic, silence prevails.
LE DICTIONNAIRE DE JOACHIM is much lighter. Joachim is a simply drawn figure of a man trying in vain to find contact with the outside world. Whenever he meets a female figure, he blushes. When he finally meets a real woman, he proposes, then finally commits suicide, only to later emerge from his grave, green grass in his hair. He turns into a bird to the sound of the Marseillaise.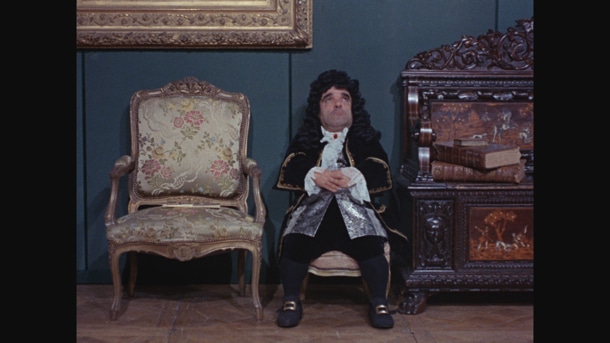 In GAVOTTE (1967) a dwarf sits on a small easy chair. A huge man takes his chair, and the dwarf sits on bigger chair and finally settles with a pillow on a big chest of drawers; but another dwarf, dressed as a servant, removes him. The two get into a fight, then the servant lands in the chest of drawers, so our hero can rest again on his pillow. All this hectic action is acted out to the peaceful sound of a gavotte.
THEATRE DE MONSIEUR & MADAM KABUL/LE CONCERT (1962) is a battle of the sexes. Madame Kabul is tall and has a hook like a bird. She plays the piano, her arm suddenly becomes elongated. For a second she changes into a beautiful woman cutting her husband into parts and stuffing them into the piano. But he escapes and is put together again, acquiring many more legs in the process. An eccentric contemplation on music and marriage.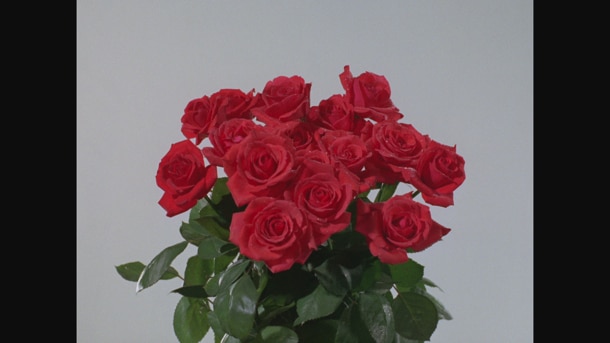 DIPTYQUE (1967) is a reflection in two parts. In the first half, a silent b/w film, we see an old man ploughing his field. A dog follows him faithfully. Then the man drives home to his village in a vintage car. Documentary in form with no flourishes apart from a sentimental score, the second part sees the action reversed: a vase with flowers, a sweet kitten playing with a ball of string. An analytic juxtaposition of opposites, both contents-wise and aesthetically.
ROSALIE (1966) is based on Guy de Maupassant's short story of the same name. Rosalie, a servant girl, has killed her twin babies and buries them in a garden. She can't afford to bring them up on her meagre salary. During the court hearing it transpires that a male member of her family is responsible for the kids, but hotly denies his paternity, and the girl is released. Borowczyk's wife, the actress Ligia Branice (who would later star in his feature films), lends her face and voice to this heart-breaking story. Apart from her face we see objects from a shop, with price tags, showing how little chance Rosalie stood of raising her children. Simple, but very moving. AS
AVAILABLE COURTESY OF ARROWFILMS.COM AMAZON.CO.UK