Dir: Bernardo Bertolucci | Debra Winger, John Malkovich, Cambell Scott, Jill Bennett, Timothy Spall | Drama 138′
Bertolucci transforms Paul Bowles' oppressively mournful novel into a sizzlingly seductive big screen feast. With a talented cast all dressed up in James Acheson's stylish rigouts and Vittorio Storaro's lush visual mastery there is also Ryuichi Sakamoto's teasing score and the sultry scenery of the Sahara to salivate over. So abandon yourself to the sensual pleasures of this richly romantic drama that lingers for over two hours.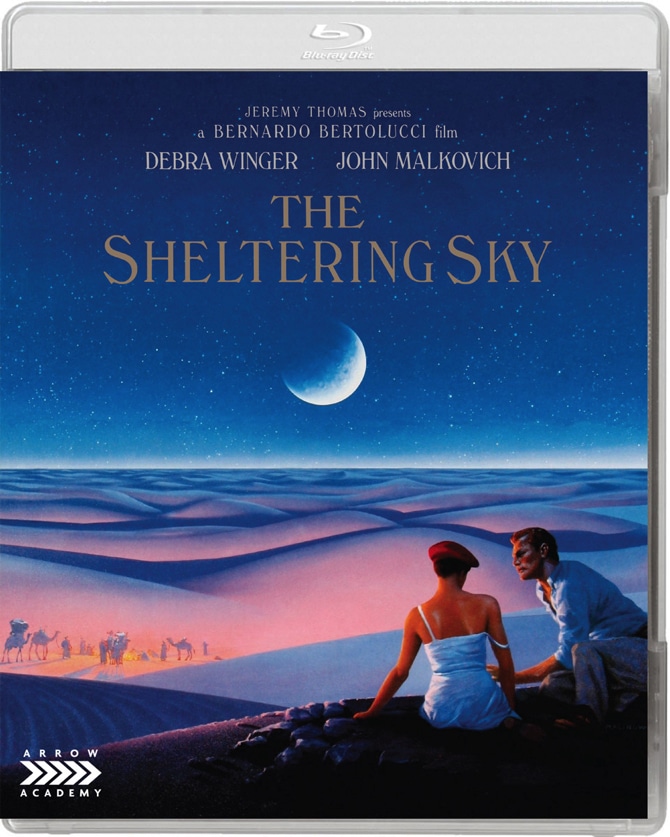 John Malkovich and Debra Winger are at their languorous best as the rather louche Americans (Kit and Port Moresby) who are travellers – rather than tourists – in North Africa in 1947. Bertolucci brings out the humanity in this rather dizzy couple – who are unlike their page versions – so when it all ends in tears we actually care in a finale that echoes The English Patient.
There is something Gatbyesque about Kit and Port – spoilt beautiful people they may be but there is a tenderness in their love for each other, however much they suffer their melancholy ennui. Both are casually unfaithful early on in the film: Kit with their travelling companion Tunner  (a sultry Scott), Port with a Moroccan prostitute. But the pivotal moment comes when they realise their relationship is doomed while making love under the eponymous sheltering sky.
From then on Algeria morphs from exotic paradise to a place of primitive danger as the trip gradually implodes. This is because Port contracts typhoid leading to a fraught search for medical help. Until then this is a sumptuous swoon of a film full of magnificent sunsets and mysterious beauty. Bertolucci by no means subverts our expectations of the cruel savagery of Africa but triumphs in showing us how terrifyingly Heaven turns to Hell. Kit loses her moral compass after Port loses his life and the enigmatic desert swallows her up in an entirely appropriate denouement. MT
A distinguished and emotive follow-up to his Best Picture-winning The Last Emperor (Academy Awards 1988) and a highlight in an extraordinary filmmaking career, The Sheltering Sky won a BAFTA for Vittorio Storaro's outstanding cinematography and a Golden Globe for Ryuichi Sakamoto's haunting original score. MT
NOW ON BLU-RAY COURTESY OF ARROW