Dir.: Ben Stiller
Cast: Ben Stiller, Kristen Wiig, Kathryn Hahn, Shirley MacLaine, Sean Penn, Adam Scott
USA 2013, 114 min. Comedy Drama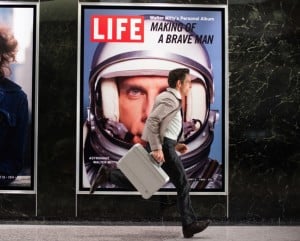 First thought: Do we really need a remake of Norman Z. MacLeod's classic from 1947, with Danny Kaye as the superhero of his own dreams? Thirty minutes into Ben Stiller's remake (in which he also stars) we probably think: not really. In Stiller's version, Walter is a photographic archivist at 'Life', which will close down in a few weeks after a takeover and go exclusively online.
Down in his basement office, Walter is meticulously preserving all the negatives, particularly those sent in in by Sean O'Connell, an elusive war and wild life photographer (Sean Penn) who embodies Walter's romantic dream of an action hero (and also happens to be Stiller's ideal actor for the part).  But the cover photo for the last edition of the magazine is missing – and Walter is to blame. Cue cringeworthy company liquidator played by Adam Scott in a performance epitomising glibness and corporate sleaze.
The only problem is that Walter – true to his legend – can only imagine his ideal life in "zoning out" experiences, where he becomes the romantic superhero, make his bland life bearable. During these episodes he saves humans and animals from great peril, and even getting the girl of his dreams, co-worker Sheryl Melhoff (Wiig), a single mum whom he is unsuccessfully trying to dating 'in reality' and on the e-harmony website. At this point the film, having shown off his big budget in special effects, changes gear.His desire to capture Sheryl's heart  is the kicker that spurs him on to realise his full potential.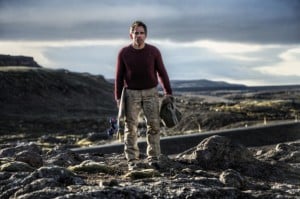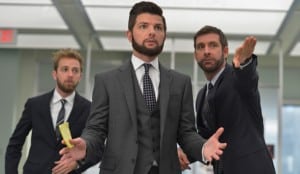 Embarking on a quirky and action-packed mission to find O'Connell (and the photo), all the way through Iceland, Greenland up to the Himalayas. his dream is tethered now to reality and this is where the narrative becomes both engaging and plausible despite the hysterical shenanigans that ensure.  Walter embodies you and I – his 'Superman'  is a disorientated character, buffeted by external forces, running for his life in a hostile land/seascape, forced on by his obsession for Cheryl – Walter becomes a metaphor for 'everyman'. He is really a blob on the landscape. And how magnificent is this landscape: huge panoramic shots of great beauty, but not in the way of a postcard idyll, but retaining all the rough edges, which  threaten Walter's pursuit of his goal. Not to mention the humans he encounters: a drunken helicopter pilot in Iceland, who drops him into the sea instead onto a vessel, where he narrowly misses being a shark's breakfast. And the perils of the English language, when Walter has to be saved from a volcano eruption in Iceland – he interprets the warning, Freudian slip-wise, as 'erection'.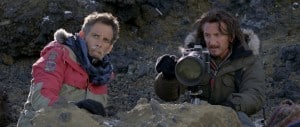 In his least cynical film (his own words) Stiller directs himself not as the slap-stick hero he normally portrays, but as (at least in the second half) the lonely, shy man Walter really is. Having been traumatised as a teenager by the death of his father (and supporting his family), he is still in the clutches of his mother Edna (MacLaine) and sister (Kathryn Hahn/Afternoon Delight). Cheryl is as many light years away from him as his fantasies, and he only makes contact with her via her son and a common love of skateboarding. In sympathy with many guys, Walter is not good at communication with women of his age; he feels a longing, but can't articulate those urges in a coherent way. He's much more able to react angrily to men, like the corporate baddy (Adam Scott). But he is not yet fine-tuned for a real partnership, because he has to embrace the Jungian concept of finding an adult version of himself, away from the stifling closeness of his mother and the hero-worshipping for O'Connell.
Stiller has presents a well-crafted film – the dissolves are stunning and he matches the narrative with a suitably emblematic score, always finding the right song for a particular moment, like the 'fantasy' Cheryl who morphs into his muse, singing "Major Tom" in a pub in Iceland, encouraging his to follow his 'star'. The message overall is humanistic and anti-corporate – not without good reason, because the online version of 'Life' closed down for real in 2012, having lasted a fraction of the time of the newspaper. Stiller's MITTY takes its time to find his human feet, but it deserves our attention like Walter his happy-end. AS
THE SECRET LIFE OF WALTER MITTY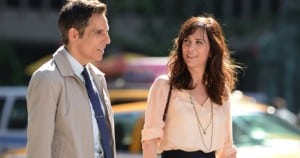 IS ON GENERAL RELEASE FROM 26 DECEMBER 2013.