Director: Wiktor Eriksoon. Prod Erik Magnusson.
Sweden-Norway 2013. 78min. Documentary
Can a film about sexploitation be funny, upbeat and endearing?:  This one is. Despite a rather off-putting title, I wandered in rather by accident and, as often the case, it turned out to be a serendipitous experience.
Called the 'Ingmar Bergman of soft porn' (by one actress, Annie Sprinkle), Joseph W Sarno preferred to style himself as an erotic auteur.  Sweet and entertaining, he comes across as one of the least sleazy people connected to the industry.  With his exquisitely beautiful and intelligent wife and collaborator, Peggy, he made a collection of 'sexploitation' films on  low budgets, characterised by stark black and white photography and cleverly artistic lighting.  None of his actresses had breast implants but many wore wigs and the camera rarely travelled below their waistlines, concentrating on sounds and facial expressions to convey the ecstasy of orgasm.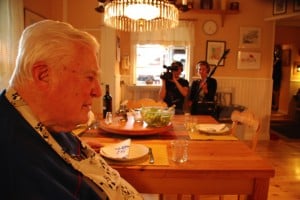 Titles such as Sin in Surburbia (1966) focussed on womens' thoughts and feelings surrounding their erotic pleasure. Men were merely regarded as 'sex objects' in a genre that aimed to build on narratives where the female was central to the plot with suggestive stories of seduction and psycho-dramas that were seen as 'female friendly' and looked at life from a woman's point of view.  The cinemas of 42nd Street (some with 1000 seats) were home to this erotic fare that was popular in the sixites and early seventies, but also had their fair share of the raincoat brigade.  Lash of Lust,  Bed of Violence and Slippery When Wet were other titles in a filmography that ran into over 121 features until his death at 89 in 2010. Joe was even called to Sweden to direct Inga, purportedly because American audiences felt that Sweden had an outré image in sexual arena.
Photographed before his death in 2010, the Sarnos make an appealingly attractive couple: she in her early seventies, he considerably older, who are still very much in love.  Asked to direct spend a part of the year in Sweden where they own an apartment they call "our castle on the hill".  A old VW Beetle sits in the garage waiting to take them to visit friends on their annual visits.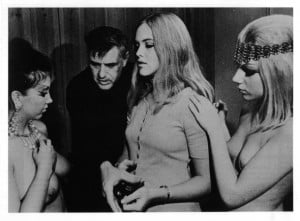 The film provides fascinating insight into Joe's long career as a screenwriter up until 2004 – sexual positions are quaintly sketched in pencil on his scripts (an aspect Peggy glosses over) and it deals with the denouement to a sub-genre of artistic porn as the industry ushers in hardcore features by the mid 70s.  Strangely, these were to centre on male pleasure, with the 'money shot' (ejaculation) being the primary focus in a strange twist were females are the new 'sex objects' despite their emancipation in an increasingly permissive society.
The Sarnos is an important study of auteur-driven artistic porn genre but also a poignant portrait of the love story of Joe and Peggy and their remarkable artistic collaboration until his death in 2010. MT
THE SARNOS: A LIFE IN DIRTY MOVIES IS SCREENING AT THE BFI LONDON FILM FESTIVAL ON 11 AND 16 OCTOBER AT VUE5 AND THE ICA, LONDON