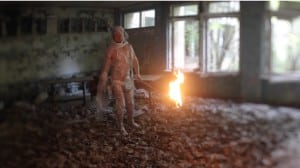 Director: Chad Gracia 80min | War Documentary |
In his darkly informative documentary Chad Gracia has found and an amusing interpreter in the shape of wild-haired Russian artist Fedor Alexandrovich who does his best to enlighten with a potted history of Ukraine from the hungry thirties of to the Chernobyl conspiracy and culminating in the Maidan uprising in Ukraine. But his story reveals a troubling secret.
THE RUSSIAN WOODPECKER, rightly awarded Grand Jury Prize, World Cinema at Sundance this year, refers to the telegraphic pecking sound made by a transmitter that had been in operation since the Cold War days in 1976, as an early warning system. The "Duga" was a low frequency device that worked by grabbing information and then bouncing it back to base thanks to the Earth's shape. A Russian speaker, American-born Gracia allows Alexandrovich, a Chernobyl survivor himself, free rein to expound his conspiracy theory on why the  reactor blew up (or was detonated in his view) in 1986, causing lethal and widespread damage. Flighty and fleet of foot, Feodor whisks us through his Iron-Curtai controversy incorporating his own family memoir of being radiated by strontium at the age of four – but he wears this experience patriotically as a badge of honour. In a fortuitous natural twist, it emerges America was protected from the Duga, a massive mesh of secret military ironwork, by the Northern Lights. Remarkable footage shows the frighteningly vast metal transmitter surging up, maniacally victorious, over the surrounding forests.
Fedor is convinced that the Duga was connected to the Chernobyl disaster and he sets off with Gracia, and his friend and cinematograapher Artem Ryzhykov, to investigate the Exclusion Zone around Chernobyl. The place is full of mangled metalwork, broken glass and overgrown buildings and Fedor sees fit to strip naked at this point as he fashions himself as part of the scary scenery, shooting his own film in the process.
Later, Fedor, Chas and Artem chat informally to elderly Soviet scientists, military men and Communist Party faithfuls, filming some of them clandestinely, and discover that the Duga was actually a failure due to its vast cost which ran into the billions. Feodor hatches his theory round the premise that the Chernobyl reactor was blown 'on purpose' by the Russians in 1986 so as to destroy the Duga radar, in an attempt to cover their error.  At this point Feodor becomes emphatic and almost beligerant as he expounds his tenuous theory while Ukrainian secret police make ominous threats against him and his family, at which point he attempts to renege on his claims and is seen fleeing the country. It does seems that the Russian are still very much feared by the Ukrainians. There are scenes shot during the Independence Square protests, which were gradually dispersed by Russian troops. Some of the footage is extraordinary showing the Russian riot Police in action, fires blazing, and flashbacks to Fedor patrolling the Duga naked in his suit of plastic cladding. Artem himself is shot and nearly killed during the protests but is later speaks to the camera claiming: "it was a peaceful protest" before he breaks down in tears.
Gracia manages to inject absurdist humour into this melancholy and disturbing documentary but this is raw, real and compelling filmmaking. Feodor claims: "Ukraine is just the first step in the re-birth of the Soviet Union – the second step is World War III". During the riots we learn that 100 protesters were shot dead. And in a hair-raising final scene we see Fedor tuning it to his radio system: After 23 years of silence, the Woodpecker signal has returned to the airwaves and been traced to the heart of Russia. MT
ON PRIME VIDEO