Dir: Thorold Dickinson | Cast: Anton Walbrook, Edith Evans, Yvonne Mitchell, Ronald Howard, Michael Medwin, Valentine Dyall | UK Drama, 95′
Yet another jewel in an output by Dickinson, short on quantity but long on quality, which showed his time at The Film Society in the 1920s had been well spent.
It takes place in Imperial Russia 1806 where St Petersburg is in the grip of gambling fever. No card strikes more fear in to the hearts of the soldiers than the evil Queen of Spades. Captain Herman Suvorin (Anton Walbrook) is a lowly German engineer: an outsider obsessed with making his fortune whose peculiar manner isolates him from the revelries of the other bawdy soldiers. He is intrigued, though, by soldiers' gossip that tells of the legend of an ancient Countess (Dame Edith Evans), who supposedly sold her soul to the devil years before in exchange for the secret of success at the card game de jour: Faro. When he stumbles across a strange and rare book that seems to confirm the story, Suvorin sets about a dastardly plan in order to extract the old lady's secret for himself. Worming his way into the household by paying false court to the Countess' lonely ward Lizaveta (Yvonne Mitchell), Suvorin discovers a secret door to the palace that leads directly into the Countess' chambers. On the night of a ball that the Countess and Lizaveta attend, he enters the palace and waits in the shadows for the Countess, determined to learn her secret before another bitter winter's day breaks.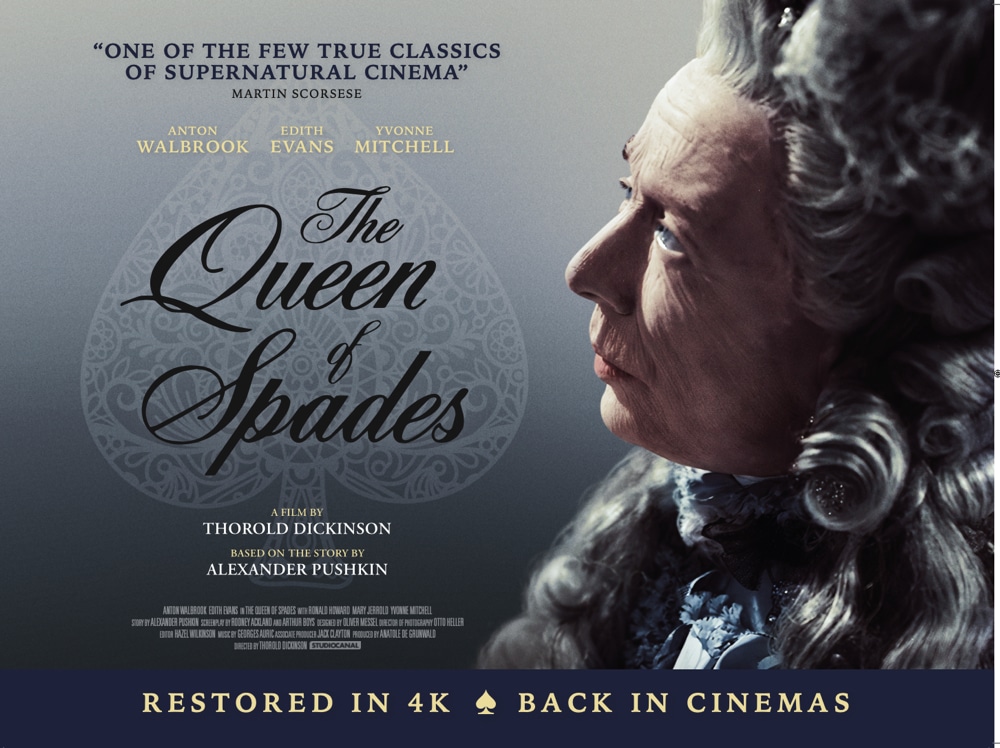 Immaculately assembled and incisively acted by a large cast of familiar faces it both looks good, thanks to the gothic photography by Otto Heller, and sounds good, thanks to Georges Auric's rich score and eerie use of sound (notably the rustle of the Countess's cape). Yet as coldly elegant as Anton Walbrook was in the lead, The Queen of Spades was a troubled production. Thorold Dickinson – at just three days notice – took over direction from screenwriter Rodney Ackland whose footage remains in the film (notably the flashback sequence with Pauline Tennant as the young countess) and plagued with money problems; not that you'd know from the film that emerged. RichardChatten
THE QUEEN OF SPADES | RESTORATION COURTESY OF STUDIOCANAL  | IN CINEMAS from 23 DECEMBER | ON BLU-RAY, DVD & DIGITAL FROM JANUARY 23
The Home entertainment release comes complete with bonus features including an Introduction by Martin Scorsese, a new interview with film critic Anna Bogutskaya as well as a rare filmed interview with Thorold Dickinson discussing the film in detail. THE QUEEN OF SPADES is the newest addition to the ever-expanding Vintage Classics collection.