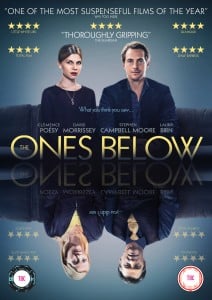 Writer|Director: David Farr
Cast: Clémance Poésy, David Morrissey, Stephen Campbell Moore, Laura Birn
97min  Thriller  UK
"Do you ever really know your neighbours" asks David Farr in his directorial debut, a weird London-set psycho thriller that fails to convince despite a decent budget and the BBC's support in the venture.
We're in media-flat-land – West Kensington or Maida Vale – judging from the pre-prandial banter: "We're out of saffron" of our loved-up young marrieds Justin (Stephen Campbell Moore) and Kate (Clémence Poésy), who have just had their first scan and are settling down to babydom in a soigné ground floor apartment.
Anyone who draws comparisons with Roman Polanski's The Tenant or Rosemary's Baby here should have their head examined, but there is an edgy surreality to this pastel arthouse piece that would go down well on BBC3 (or ITV) on a Tuesday night. Farr's storyline is likely to ramp up maternal and paternal anxiety levels so this is probably one to avoid if you're shortly expecting to hear the patter of tiny feet of the human variety.
As it turns out, the couple's downstairs neighbours are also in the family way. Buttoned-up middle-aged banker Jon (a superbly supercilious David Morrissey) and latterday Hitchcockian ice maiden Theresa (Laura Birn), who has been selected 'off the peg' by Jon for her youth and child-bearing potential, are unlikely bedfellows. Over a tense impromptu dinner chez Kate and 'Just' it emerges that the couple have been trying to conceive for seven years and according to Theresa:  "Jon's last wife couldn't have kids, so it was no good": clearly there are also potential issues for Jon on the siring front.
The girls hit it off initially although Kate is the more laid back and Theresa, labouring under some kind of mental strain, drinks heavily all through the dinner. The evening takes an unfortunate turn for the worst whereupon Theresa and Jon both bridle viciously and retreat into a hostile stand-off in their basement. Thoughts of a possible legal battle run through our minds at this stage, but the status quo soon returns to normal – these are educated and well-bred people, after all – until strange goings-on indicate that possibly the tables are turning against Kate and Just. And this is where Farr's script plays up the isolation and neurosis that child-rearing can entail. Kate is left alone while Just works long hours on web design.
Meanwhile, the more affluent couple are out lunching together trying to work out what they have in common. At least Theresa enjoying the benefits of a financially secure and work-free existence although her character utterly fails to convince. THE ONES BELOW has an genuinely eerie feel to it while neatly sidestepping the usual horror tropes such creaking floors or a sinister score. Ed Rutherfood's visuals offer a shady look behind the doors of the seemingly 'shiny' couple who clearly live their lives on the outside. The house is bright and clean with decent furniture and a positively pristine 'curb appeal'. But while his narrative aims to be enigmatic, it ends up being unsatisfactory with meaningless flashbacks and an ill-thoughtout and nonsensical third-act that morphs into heightened melodrama where everyone suddenly behaves completely out of character in performances that are as creaky as floorboards. Of the four, Morrissey probably gives the most polished turn as the brittle, snide businessman. Campbell Moore isn't given a great deal to work with and Clémence Poésy does her best as the most likeable and down to earth of the foursome. David Farr is clearly a filmmaker with talent and although THE ONES BELOW has its faults, its certainly worth watching. MT
THE ONES BELOW | Available to buy on blu-ray from 4th July