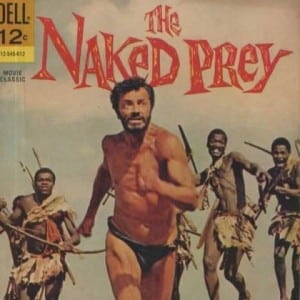 Director: Cornel Wilde | Writers: Clint Johnsion | Don Peters
Cast: Cornel Wilde,, Gert Van Der Berg, Ken Gampu, Patrick Mynhardt, Bella Randels
94min  US  Action Thriller
THE NAKED PREY is a difficult film to watch by today's politically correct standards and makes you realise just how far we've come on the human and animal rights road to freedom. Crass in the extreme with its wide-scale animal cruelty and vicious human slaughter that starts shortly after the two hunters – Cornel Wilde (a professional tracker) and Gert Van Der Berg (the Safari financier)- embark on their ill-starred safari in Botswana and Zimbabwe for a killing spree with ivory as their prize. Having argued and almost fallen out over the giving of gifts to the local tribespeople – advised by Wilde as the correct protocol – they start shooting elephants. But soon become the victims of their own cruelly-intentioned Low Velt outing.
This is certainly gruesome stuff complete with a score of native drums and the full tribal regalia including spears, and leather loin cloths. After the local tribe turn nasty, Cornel Wilde's experienced tracker breaks lose -Tarzan-style, and makes his getaway across an arid and scrubby landscape peppered with savage beasts, and that's just the natives. There are chameleons, snakes and scorpions to name but a few perils, fauna-wise. This is the ultimate boy's own adventure and, archaic though it may seem to our 21st century eyes, it is outrageously entertaining and at times even exhilarating. Naturally, being the director, producer and star, Wilde gets to do his macho stuff: having rid himself of pesky natives and their spears, he's seen tapping sap from a nearby bush, and tracking cheetah, baboon and even the odd fowl – the latter unsuccessfully. The locals are more savvy when it comes to hunting and do get their prey: a beautiful young impala, which they carry off silhouetted into the sunset.
Interspersed with these thrilling action sequences which continue into the more vibrant setting of the High Velt, there are shots of lions eating antelope, and snakes a plenty. THE NAKED PREY, put simply, is a metaphor for how easy it is for man to sink into the lowest form of life, given the correct conditions: you can take a man out of the wild, but you can't take the wild out of the man. And no one can extract an apology from Mr Wilde for his political incorrectness in making this thrilling adventure; he's long gone, to that 'jungle' in the sky. The movie was even nominated for an Oscar in the 1965 Academy Awards. How times have changed!.
OUT ON DVD COURTESY OF EUREKA | MASTERS OF CINEMA SERIES | 19 OCTOBER 2015