Dir: Jack Gold | Writer: Philip Mackie | Cast: John Hurt, Patricia Hodge, John Rhys-Davies | Biopic Drama | 77min | UK
"Never Keep up with the Joneses. Drag them down to your level, it's cheaper"
Adapted for the TV by Philip Mackie this biopic of Quentin Crisp is based on his autobiography of the same name and successfully captures the flamboyant spirit of a man who openly flouted his homosexuality in an era where gaydom was not only frowned upon, but only just legal.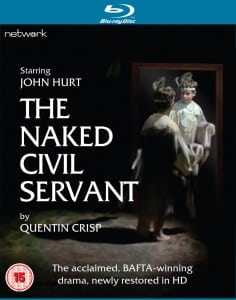 Born with the rather less glamorous name of Denis Pratt in 1908, Crisp became an ageing poster boy for a style of effete homosexuality. And although society failed to espouse his gay status, his bid to raise its awareness made him the sexual equivalent of the suffragettes, suffering daily verbal abuse and discrimination for his cause. Crisp decided late in life to write his autobiography: it it hardly flew off the press, with only 3500 copies sold. But this Thames TV 1975 outing was a resounding success finally giving Crisp the celebrity and personal endorsement he had always craved.
John Hurt gives extraordinary performance of style and panache winning him a BAFTA for Best Actor, while director Jack Gold won the Academy's highest commendation, The Desmond Davies Award, for outstanding creative contribution to television. The narrative is episodic in nature and deals with its subject matter in a down to earth fashion, refusing to sensationalise what was clearly a time of personal difficulty and great sadness, despite Crisp's great courage and perseverance which he bears with wit, verve and considerable aplomb. Crisp makes a cameo appearance at the end. MT
A SPECIAL CINEMA SCREENING ON 28 MAY 2017 | BLURAY/DVD RELEASE 5 JUNE 2017 COURTESY OF NETWORK.