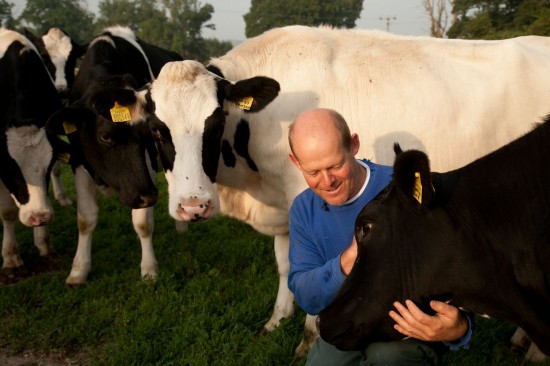 Director: Andrew Heathcote
Cast: Stephen Hook
90min  Documentary UK
It costs a dairy farmer 34p to produce a litre of fresh milk. The supermarkets will pay 27p per litre to the farmer and so dairy farmers throughout England are living on the breadline, unable to make money by producing the most vital of all food products and the tax payer subsidises their existence.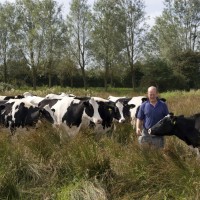 Andrew Heathcote's brings the issue to the fore with a touching documentary focusing on Stephen Hook, an organic dairy farmer with a difference: not only does he run a profitable dairy farm but he believes in having a close and chatty relationship with his 75 cows and particularly Ida, the queen of the herd. It's a fascinating and surprisingly moving story.
Andy's approach is observational and relaxed, leaving Stephen to calmly take us through, at close-range, the challenges and joys of his daily life. Often physically hard but always rewarding, the narrative moves backwards and forwards over one year in his delightful Sussex farm amid gentle sounds of nature and a gloriously uplifting original score from Stephen Daltry. The Moo Man is an informative piece of fimmaking that works on three levels: as a narrative on the demise of the local community tradesman, a human interest story about our relationship with the animal world and an important wake-up call to the British Government and the supermarkets about one of our oldest, and most important industries, Farming .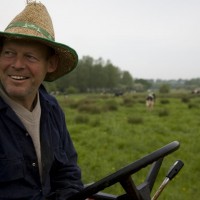 And it's not all scenes of freshly mown meadows and summer sunsets: the birth of several calves at eye-wateringly close quarters is a difficult sight but life-affirming one.  On a humane leverl, the bull calves are not shot at birth here on Stephen Hook's farm but manage to enjoy two years before they finally go to their maker and produce organic beef for the locals.
Stephen claims his raw milk can lower cholesterol and blood pressure and get rid of eczema.  Apart from caring about his animals he also prides himself with his shrewd business approach, selling to customers direct through the local farmers' markets. There's a wonderful scene where the cows frolic and buck as they are let into the field on the first day of Spring. The success of this film is that it never feels worthy, serious or heavy-going and delivers its message with a lightness of touch and a quiet firmness.  A real gem. MT
THANKS TO THE KICKSTARTER CAMPAIGN THIS FILM IS NOW ON GENERAL RELEASE AT THE RIVERSIDE STUDIES, LONDON FROM 11TH JULY 2013.
JOIN THE KICKSTARTER CAMPAIGN.