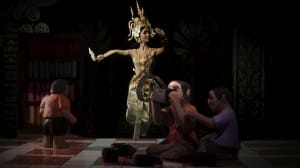 Rithy Panh and Christophe Bataille
96min   French with English Subtitles   Documentary Animation
The serene and gentle voice of award-winning director Rithy Panh narrates this tragic and heartfelt memoir of the invasion of Cambodia on April 17th, which has helped him come to terms with the terrible losses he suffered during the time of his adolescence, when over 2 million people died during the regime.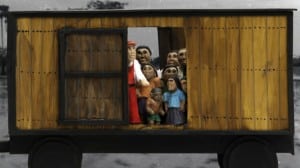 Using a collage of bleached-out black and white footage and finely-rendered clay figurines (symbolising stultifying control) set to a weirdly sinister score. What emerges is a a non-confrontational animated memoir of the hostilities, as individuals became a collective of meaningless numbers imprisioned by the Khmer Rouge to become Democratic Kampuchea. There were no more lovers, friends, mothers, fathers or even personal possessions as a revolutionary sea of equality washed over a society cleansed of class division – the past had to be internalised so that it could be hidden from view and retained in a secure place.
Pol Pot strides confidently through the crowds amid idolatrous applause proceeded by pictures of tortured dissidents and those that kicked against the crushing power of communism. In a regime (similar Nazism and Stalinism) characterised by hunger, torture and emotional cruelty and lack of respect or compassion for the individual, Panh tells how his father was denied a decent burial. Schools became detention centres reflecting a 'perfect society' where Marxist ideology reigned as revolutionary winds wafted through the paddy fields heralding ideals of creating an agrarian socialist economy which failed incontrovertibly leading to the deaths (from hunger) of millions of its inhabitants. The mantra – "Whoever apposes, is a corpse" indeed became a reality.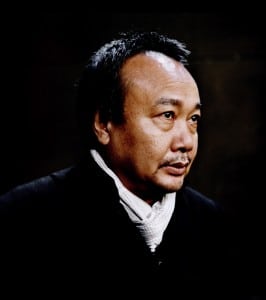 Footage of Neil Armstrong's moon landing provides a contemporary counterpoint reflecting advancement and freedom in the US as Cambodia's people drown in the mud. While he lost his entire family during his teenage years from  1975-79, the Khmer Rouge was destroying everything outside their central control; forbidding fishing and any kind of attempt to grow private foodstuffs and demolishing hospitals,  while simultaneously rejecting offers of outside humanitarian aide.
Panh was inspired to channel his energies and creative impulses into filmmaking during this time of loss, working quietly in an agrarian cooperative work camp, lit by neon at night.  His serene depiction of pure evil is made all the more effective by its peaceful approach and intricately delicate treatment.  MT
"UN CERTAIN REGARD"  WINNER AT CANNES 2013 and HAS BEEN SHORTLISTED FOR THE ACADEMY AWARDS FOREIGN LANGUAGE SECTION IN 2014.
THE MISSING PICTURE IS SHOWING FROM FRIDAY, 3 JANUARY 2013 AT SELECTED CINEMAS
[youtube id="GBsf1TvX_WI" width="600″ height="350″]