Director: John Huston   Screenplay: Arthur Miller
Cast: Montgomery Clift, Marilyn Monroe, Clark Gable, Thelma Ritter, Eli Wallach, Estelle Winwood
125min   Drama Romance Western  US
The jury's still out on posterity's final verdict on the merits of this early road movie set in and around Reno. While it was in production a major event was anticipated: Pulitzer prizewinning playwright Arthur Miller's script was his first original screenplay – written especially for his movie star wife Marilyn Monroe – and by the time it hit cinemas in early 1961 audiences also knew the film would mark the final screen appearance of Clark Gable. But no one could have dreamt that the film would turn out to be Monroe's swansong too.
Miller continued ceaselessly to rewrite the script on location as his marriage to Monroe fell apart, and would later describe the shooting of THE MISFITS as a low point in his life. (The pair were divorced just before the film's premiere). Doped up to the eyeballs, Monroe's constant late arrivals on set – or complete no-shows – resulted in production relentlessly dragging on for months, and when Gable finally completed his scenes he sighed "Christ I'm glad this picture's finished. She damn near gave me a heart attack. I've never been happier when a film ended". Just two days afterwards Gable did suffer a heart attack, from which he died ten days later. Despite the massive advance publicity THE MISFITS received, the filmgoing public proved uninterested in the two-hour ramblings of a bunch of blue-collar losers and stayed away. The film continues to dismissed by some as a failure.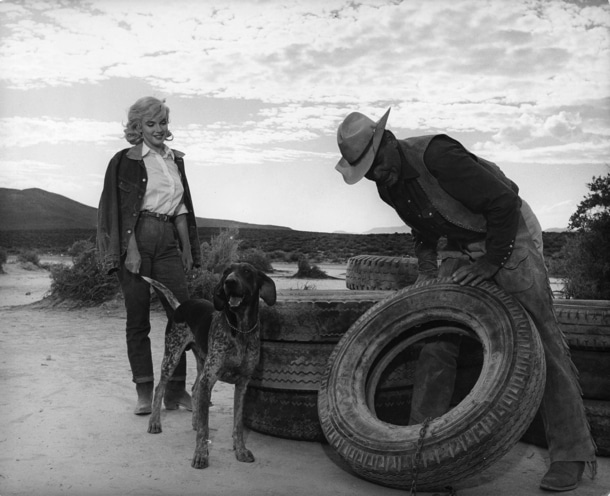 Yet from all this wreckage – aided by the immaculate location photography of Russell Metty (fresh from his Oscar-winning work on Spartacus) and the editing of Hitchcock's regular collaborator George Tomasini (fresh from Psycho) – a beautiful and moving film somehow managed to emerge. While the fragile mental state of both Monroe and co-star Montgomery Clift are all-too apparent in the finished film, Monroe remains hauntingly beautiful in a role a million miles from the Hollywood glamour her name usually evokes. With the subsequent untimely loss first of Monroe and then of Clift the film's morose self-pity began to mellow into melancholy (and it's always wonderful to see Thelma Ritter again!).
Although making the film almost certainly killed him, THE MISFITS has ironically secured Clark Gable's reputation with a younger generation that might otherwise know him only – if at all – as Rhett Butler in Gone With the Wind. Even those who know their old movies would be hard-pressed to name more than a couple of his post-war vehicles; and his name remains largely the property of those who cherish the classic Hollywood cinema of the thirties. (Gable himself once said that "The only thing that has kept me a big star has been revivals of Gone With the Wind"). Hence the glorious incongruity of his towering presence in this early example of independent US filmmaking; which in retrospect resembles the first of an unofficial trio of black-&-white early sixties contemporary anti-westerns, each dominated by a commanding male lead performance as a drifter in a stetson: the latter pair being Lonely Are the Brave with Kirk Douglas and Hud with Paul Newman. The late David Shipman described THE MISFITS as "an attempt by a New Yorker to come to terms with the West". A precursor had been Nicholas Ray's The Lusty Men (1952), whose star Robert Mitchum had also been John Huston's intended lead for THE MISFITS. Mitchum however didn't like Miller's script (or the prospect of strenuous stunt work roping steers in the searing heat of the Nevada desert) and ironically turned it down; since the film is now unthinkable without Gable. He lost two and a half stone for the part, and at 14st looked trimmer than he had in years; and although looking every one of his fifty-nine years, the virility and charisma that nearly thirty years earlier had wowed Jean Harlow and Carole Lombard survives intact. After more than half a century THE MISFITS continues to remind audiences just why Gable was known in his heyday as the King of Hollywood; and his closing speech ("Just head for that big star straight on. The highway's under it. It'll take us right home") has long ago taken its place in film legend alongside Scarlett O'Hara's "After all, tomorrow is another day". Richard Chatten.
THE MISFITS IS ON LONG RELEASE AT THE BFI  FOR THE MARILYN MONROE SEASON FROM 12 JUNE 2015