Dir: James Marsh | Writer: Scott Z Burns | Cast: Colin Firth, Rachel Weisz, David Thewliss, Ken Stott, Mark Gatiss, Finn Elliot | Drama | 101′
James Marsh captures the tragic Englishness of this sad Sixties maritime mystery about a decent man who loses his way.
Colin Firth and Rachel Weisz are utterly convincing as the loving couple at the heart of this watchable biopic about  the doomed attempt of amateur yachtsman Donald Crowhurst to compete in the notorious 1968 Sunday Times Golden Globe Race. Crowhurst's story is an evergreen portrait of British sporting failure. Spurred on by middle-class ambition, and the desire to make something of his happy but humdrum existence, the competent sailer gets caught up in the headlights of potential fame, and fails – spectacularly. And somehow, only the English themselves can appreciate this also ran tragedy.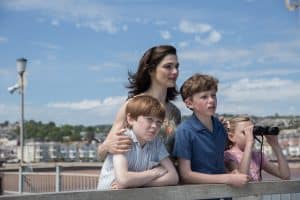 The Crowhurst story has spawned various theatrical and literary adaptations, and even a chamber opera: The Strange Last Voyage of Donald Crowhurst. Eric Colvin plays him in Simon Rumley's upcoming low budget indie thriller Crowhurst which purportedly features the actual vessel that set sail in the endeavour.
Without mining the stormy depths of the tale's dramatic potential, The Mercy is a poignantly becalmed but strangely gripping family drama with its mystery hanging over us rather like that of the Bermuda Triangle, taking us back down memory lane to the quaint old days of the late 1960s where in the pleasant seaside town of Teignmouth, Devon. the Crowhursts are a respectable family with Donald desperately seeking to shore up his ailing business and educate his kids. Striking a rather bum note in the opening scene, Marsh then guides us through calm waters where Donald attends the annual London Boat Show attempting to sell a special kind of navigation device that nobody's having. So he decides to turn his sailing hobby into a money-making exercise – the jackpot for the winner being £5,000 – around £70K in today's money) raising finance via entrepreneur Stanley Best ( a reliable Ken Stott).  It's an enterprising idea but Crowhurst foolhardily agrees to include his house in the if he fails to complete the race.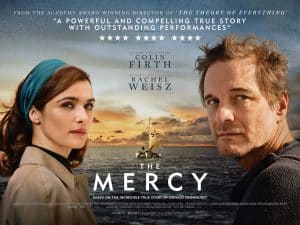 Firth is brilliantly cast as Crowhurst – blending just the right amount of pathos and self-belief in his portrait of an unsatisfactory businessman of a rather nervous disposition who can't take pressure and lacks personal conviction (possibly due to his mother dressing him as a much wanted girl until the age of 17). His marriage is clearly happy and Rachel Weisz plays his wife as a typically supportive English rose, stalwart in her affections and a brilliant mum but rather passive and naive in a commercial sense, as most women were in the those days.
Nagged by doubt, but spurred on by the media circus and a PR man called Rodney Hallworth – a strangely comic turn from David Thewlis – there are clearly technical drawbacks with his boat which looks unsuitable even to cross a puddle let alone the Atlantic – but after ominous delays he finally sets out at the end of October. Follies de grandeur then subside as he encounters his own demons and slowly starts to fall apart off the coast of South America, realising there is no way back or forward in the bathetic denouement, which Marsh leaves suitably vague. We leave overwhelmed with that familiar feeling of sadness mingled with resignation both for Crowhurst and for British sportsmanship, and sympathetic for his wife, not a great role Weisz but one she plays with thoughtful grace. MT
ON GENERAL RELEASE FROM 9 FEBRUARY NATIONWIDE