Director: Michael Winterbottom
Producer: Revolution films/Melissa Parmenter
Cast: Steve Coogan, Tamsin Egerton, Imogen Potts, Anna Friel, Chris Addison, James Lance, Matthew Beard, David Walliams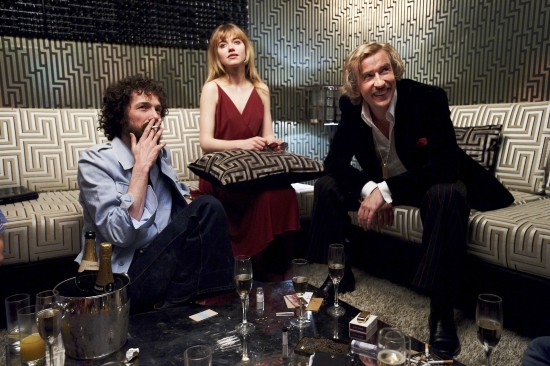 105min     UK  Comedy Drama
Michael Winterbottom's biopic of sixties porn publisher and property magnate Paul Raymond marks a return to comedy drama for the director and what a cracking film it is!
Starring his regular collaborator Steve Coogan, who's absolutely magnificent in the role of Raymond: brimming with hard-edged joie de vivre and embuing in Raymond a crude and letcherous charm: The story will have particular appeal to those who remember with nostalgia the swinging sixties for the sheer decadence, joy-filled optimism of an era that broke down the barriers of stiff-lipped tradition.
Told with great gusto, the story really centres on Raymond's relationships with the main women in his life: his wife, daughter and lover in the shape of Fiona Richmond.  And anybody with an older brother or father will remember her as the first really strong English sex symbol: both alluring and powerful in the early seventies: a business woman AND a centre-page cover girl.  And this is a film about strong personalities but particularly about feisty female characters.
The story charts 30 years of Raymond's hedonistic life starting in1958 with his brief dalliance as a stage hypnotist through to club owner, theatre producer to property magnate to publishing by 1992. He emerges as a coke-snorting, cold fish but also cuts rather a sad figure who, in the rush to make a commercial success of his life, fails to engage on any meaningful level with the women who really make it all worthwhile.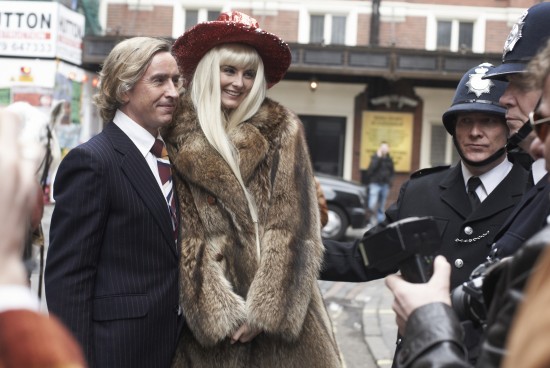 Anna Friel is gutsy and believable as his wife Jean and mother of his daughter Deborah.  Imogen Poots excels in the role of the vulnerable, needy, yet strong-willed Deborah who casts around looking for a niche, first as an actress and then a singer. The film gives insight into Paul Raymond's work methods and really unlocks the business man in him, through his relationship with his wife and daughter.  Although Paul loves her madly as a dad, he  lets money stand in the way of her happiness when a West End production she's starring in fails: "I can't keep haemorrhaging money into something that's not working just to keep you happy". Like many businessmen he sees only the balance sheet and never what money can do to make those important to him feel validated.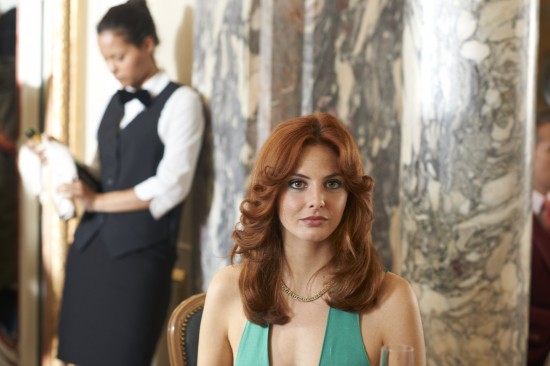 But it's with Fiona Richmond that he really meets his match, sexually and intellectually.  Tamsin Egerton makes for fabulously graceful casting here.  She's also appears way ahead of him class-wise leaving him slightly back-footed but looking like the cat that got the cream on more than one occasion: they make a appealing double act and are both better looking than the originals.  Sadly, Paul's eldest son (Derry McCarthy) from his first partner, is played here by Liam Boyle, makes a small appearance but gets short-shrift and goes away empty-handed, as he does in real life.
This is a richly entertaining film and the best that Michael Winterbottom has made in a long while. Particularly appealing to those interested in the era with its excellent footage of London's Soho and sixties life offering a colourful back-drop from Kettners, Ronnie Scott's, to L'Escargot in Greek Street; all still going strong.  Paul Raymond emerges as a sad, cypher, reflecting the striking charisma of the women around him, yet possessing little depth and personality himself despite his shrewd business acumen.  He certainly liked money and he liked sex but, at the end of the day, it appears the 'King Of Soho' only really loved himself. MT
THE LOOK OF LOVE IS ON GENERAL RELEASE FROM 26 APRIL 2013.