Dir: Charles Crichton | Script: T.E.B. Clarke | Cast: Alex Guinness, Stanley Holloway, Sidney James, Alfie Bass | UK, Comedy Crime Drama 78′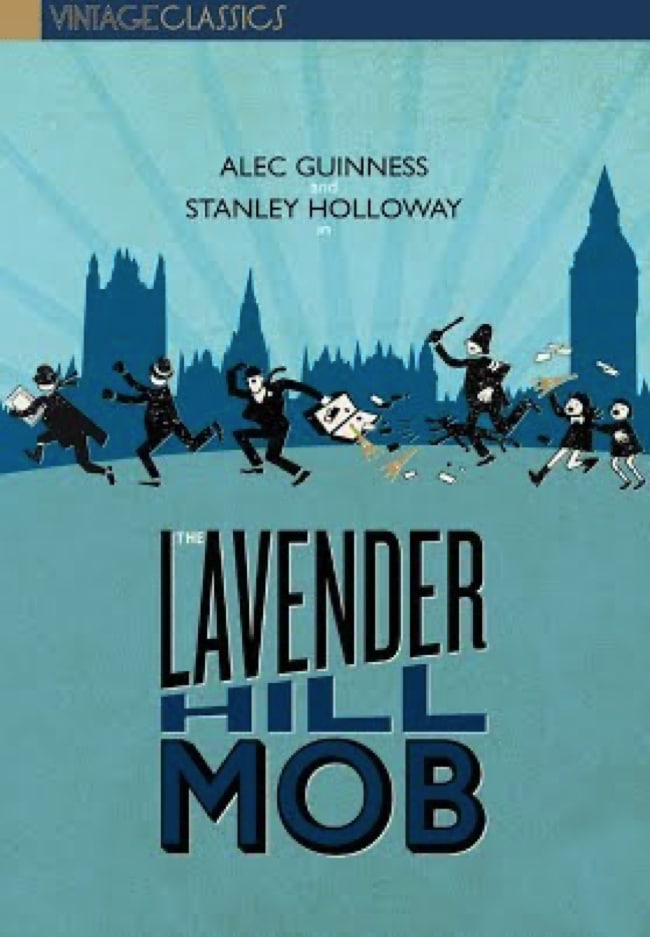 Of all the British-produced caper films The Lavender Hill Mob has to be the most endearing. Almost seventy years old it still engages and delights with a period innocence that's now impossible to recreate. Although Crichton's comedy is on a par with the whimsy of Passport to Pimlico – both films were scripted by T.E.B.Clarke – this is not amongst the very best of Ealing comedies: that accolade still goes to Kind Hearts and Coronets, Whiskey Galore and The Ladykillers. But The Lavender Hill Mob delivers a unique gentleness of tone that makes it special.
The plot centres on the theft of a security van carrying gold bars which are melted down to be encased in souvenir paperweights of the Eiffel Tower, and shipped over to France. A supposed perfect plan, until a few are accidentally sold to a class of English schoolgirls, leaving the mob (each a grown-up kid at heart) panicking over one stubborn child who won't exchange her Eiffel Tower for a ten shilling note. A simple story of a mob undertaking, with childlike courage, a heist remarkable enough to disarm a complacent British establishment.
Assembling a gang of East End thugs sounds somehow a lot less threatening than a mob of Chicago hoodlums. The spivs and gangsters of violent British films like They Made me a Fugitive (1947) have been replaced here by the mischievous 'boy' criminal. Ironically, sweet rationing came to an end in Britain two years after the release of The Lavender Hill Mob, so you can imagine how easily satisfied the British public were prior to that – just a lollipop made people happy back in the day, never mind a gold bar.
I emphasise the adult Lavender Hill mob as being deprived kids because, as in The Ladykillers, they are often subtly and ingeniously infantilised. There's a delightful scene where a drunken "Al" Pendlebury (Stanley Holloway) and "Dutch" Holland (Alec Guiness) return to their lodgings to be reprimanded by landlady Mrs Chalk (Marjorie Fielding). She calls them noisy "naughty men" for disturbing the other residents. This prim old lady looks forward to Mrs Wilberforce (Katy Johnson) of The Ladykillers. As Charles Barr describes in his brilliant Ealing Studios "She (Wilberforce) becomes a triumphant nanny" on discovering what her furtive visitors are really up to.
Both films depict middle and working class blokes reprimanded for being naughty and irresponsible – even Lackery Wood's missus forbids him to go on a boat trip to Paris to collect the golden souvenirs. Both films carefully reveal an astute feminine force at work to challenge the behaviour of bad men. If The Ladykillers is a black comedy that finally destroys the would-be murderous visitors then The Lavender Hill Mob is a light (or white) comedy intent to show gentlemanly thieves, without violent impulses or methods, eventually found out by Mum and her detectives.
Charles Crichton directs with confidence aided by the precise editing of Seth Holt. Witness Al and Dutch's giddy descent on the steps of the real Eiffel Tower. Dizzy from their efforts (like kids after a Big Dipper) they regain their balance just as a car is speeding off with the schoolgirls happily clutching their souvenir towers. The edit from them standing up to witness the car leaving, is superbly done, and one the four chase sequences featured.
Chase two begins with Al and Dutch arriving at the port where the school party will catch a boat to sail back to England. They suffer the last minute frustration of having to buy tickets, go through passport control and customs. Each procedure is a gem of comic observation, culminating in them missing the boat.
Chase three is set in an exhibition hall illustrating how the police force works, or tries to work, in England. The little girl hands over her Eiffel tower model to a policeman friend. The thieves grab it and mayhem ensues. Trapped in a confined space police accidentally pursue other police, including one on an exhibition motor bike.
Chase four is the funniest of all and sees Al and Dutch steal a police vehicle to be pursued by patrol cars – one being driven by a man dressed in Robert Peel period uniform. The cars collide, their radio aerials entwine and Scotland Yard overhears a policeman singing as he cadges a lift by the mob, all this interspersed with loud pig snorts, the song "Old McDonald had a Farm" in time with a BBC radio broadcast.
Each sequence is handled with expert timing that not only recalls silent movie escapades but possibly inspired Cliff Owens's sublime 1963 comedy The Wrong Arm of the Law – a satirical chase film about naughty villains and a befuddled police force. And Lavender's fast moving antics are reinforced by an exuberant music score from Georges Auric.
If I've stressed the innocence of a film that appears to have no dark content, then I'd make one qualification. The film has a small note of despair. "Dutch" Holland, formerly a timid bank clerk, was lacking in drive and ambition. Alec Guinness (voice over) describes himself as a desperate nonentity. Cut to a shot of documentary footage of similar nonentities, trapped in their boring jobs, crossing over London Bridge. This oddly piercing moment made me think of Eliot's famous lines in The Waste Land.
"A crowd flowed over London Bridge, so many.
I had not thought death had undone so many."
But to mention Eliot is probably too weighty. For The Lavender Hill Mob is first and foremost a seriously funny comedy more than a serious film. The meek Dutch (Holland's first and real name was Henry) is transformed from being an anonymous worker to paradoxically a celebrated and plucky local-hero for the bank staff and a cunning mastermind thief who finally absconds to Rio de Janiero; wining and dining whilst generously donating the stolen money to good causes.
We never learn of the final fate of the other members of the Lavender mob. But this irrepressibly charming classic portrays them as typically 1950s post-war English eccentrics, repressed, but not bitter, more sweetly irreverent and decidedly special: characters that challenge the label of nonentity, as scripted by T.E.B.Clarke, with a golden touch of wit, enough to garner the writer a richly deserved BAFTA. ©AlanPrice
NOW ON BLURAY COURTESY OF STUDIOCANAL