Director: Joseph von Sternberg
Cast: Emil Jannings, William Powell, Evelyn Brent
88 min., (Silent) drama | US
Joseph von Sternberg's career spanned from 1925 to 1957, his 35 films include the silent era classic Underworld, Der Blaue Engel (1930) and Shanghai Express (1932). Emil Jannings, the German actor who later sold himself to the Nazis, starred in the former, winning the first ever Oscar for Best Actor for The Last Command and The Way of the Flesh (1927), even though later research showed that Jannings was only runner-up to Rin-Tin-Tin, the German Shepherd Dog and canine star of popular film: The Academy did not want to give their first Oscar to a dog so chose Jannings as the leading human of the field.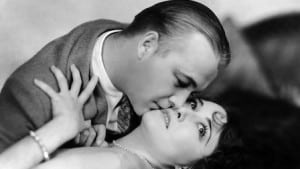 Sergius Alexander (Jannings), a Russian ex-Duke and cousin of the late Tsar, lives in a cheap boarding house in LA and works as an extra for the Hollywood Studios. One day he gets a phone call ordering him on set the next day for the shooting of a WWI film set in Russia, directed by another Russian emigrant, Leo Andreyev (Powell). When Alexander arrives at the studio, beset by a permanent nervous tic making his head shake, the extras make fun of him. We cut to Tsarist Russia in 1917, where Duke Alexander is a leader in a military campaign. He meets the alluring Natalie Dabrova (Brent) and her partner Leo Andreyev, both revolutionaries pretending to be actors. Alexander strikes the obstinate Andreyev with his riding crop. Alexander and Dabrova then fall in love: despite her Bolshevik ideals she is drawn to his compassion. Tragedy ensues and Alexander finds himself back in the studio as an extra. On the salt covered studio floor, intended to look like an icy desert, Alexander takes his role so seriously that he collapses, dying in the arms of the now repentant director Andreyev, a former revolutionary.
The theme of betrayal and somehow redemption, which we will meet again in Der Blaue Engel, is clear. All the main characters are ambivalent; acting quiet the opposite to their chosen identity. Like Professor Unrat in Der Blaue Engel, Jannings again is punished for falling in love with an unsuitable woman. But this time, she does not betray him, and his loss is therefore much greater than Unrat's. Andreyev, slipping seamlessly from revolutionary to Hollywood director, gets a certain redemption in forgiving Alexander the beating calling the dead general a "great man". Von Sternberg's humanism, which set him apart from other great directors of his time, is always moving without ever being sentimental.
Images come courtesy of the DoP Bert Glennon (Stagecoach, Rio Grande), who shot 143 films in his long career lasting from 1916 to 1962. With his moody, softly lit and sensitive close-ups and magnificent set pieces, he shows the studio not just as a place of great art, but of many minions toiling for the glory of the director and the stars. The queue in front of the studio gate in the early morning is full of bitter men and women, fighting for a day's work which might, literally, save their lives. THE LAST COMMAND is outstanding in its emotional intensity and feels contemporary and relevant even today. AS
OUT ON DUAL FORMAT DVD \ BLU COURTESY OF EUREKA MASTERS OF  CINEMA | 16 MAY 2016