Dir: Alexander Mackendrick | Drama | UK 83′
Celebrating its 65th Anniversary The Ladykillers was the last of the legendary Ealing Comedies., a subversively amusing caper that proves the undeniable civilising force of charming female influence. The female in question is Katie Johnson's Mrs Wilberforce, a genteel little old lady who agrees to let a suite of rooms in her St Pancras abode to a ghoulish looking 'musician' with unfeasible dentures (Alex Guinness). As we soon discover, his intentions are far from honourable when joined by a motley crew of what turns out to be rather gentlemanly crooks: Peter Sellers, Herbert Lom, Cecil Parker and Danny Green. The Ladykillers reflects on the kindness of strangers – but reminds us never to look a gift horse in the mouth – in a world that sadly no longer exists.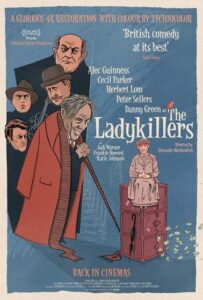 In a role originally intended for Alistair Sim, Guinness looks almost macabre as Professor Marcus, whose plan to dupe the seemingly naive Mrs Wilberforce into being part of a heist goes pear-shaped after the crew rob a security van. But the heist is just a vehicle for darkly amusing antics that involve a parrot, a tea party and a strange old house facing St Pancras Station in Euston Road, but now no longer exists.
This gothic caper is far superior to the Coen Brothers' 2004 remake, the humour derived from Mrs Wildberforce's typically English way of derailing the gang's activities with her innocent requests for assistance, and offers of cups of tea. Meanwhile they try to conceal their sculduggery by posing as a farcical string quartet, though they are unable to play a note and are in fact miming to a recording of Boccherini's Minuet. In the end the gang pull off the robbery, but none of them could have predicted that their greatest obstacle to escaping with the loot would be their well-meaning hostess. 
The Ladykillers was the last Technicolour three-strip film shot in Britain and went on to win Best British Screenplay for William Rose and Best British Actress for Katie Johnson, in the film that made her a star at the grand old age of 77.
Restoration-wise a 35mm Technicolor print was used as a reference for the colour grade to ensure the new HDR Dolby Vision master stayed true to the films original 1950s 'Colour by Technicolor' look. In total the remaster benefitted from over a 1000 hours' worth of 4K digital restoration to achieve a sparkling new digital print. MT
IN CINEMAS FROM 23 OCTOBER 2020 | UHD, BLU-RAY/DVD includes Forever Ealing Documentary narrated by Daniel Day-Lewis and BBC Omnibus Made in Ealing (1986) featuring interviews with Alexander Mackendrick and William Rose.