Dir: Ralph Thomas | Wri: Ian Stuart Black, Brian Forbes | Cast: Dirk Bogarde, Susan Strasberg, George Chakiris, Denholm Elliot, Colin Campbell | UK, 96′
Dirk Bogarde's ninth and final film for Betty Box and Ralph Thomas. Although King & Country (from which Bogarde went straight into this slick, good-looking guilty pleasure) had been set during the Great War, and this as recently as 1957, this seems more of a throwback than Losey's film.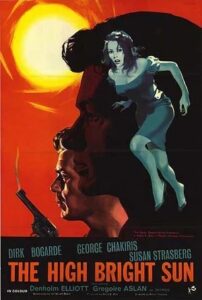 The whole thing takes place during Cyprus' war of independence from Britain in 1957/ Strasberg is Juno Kozani an American archeology student who gets caught up in conflict not only with war but also between a local guerrilla fighter (George Chakiris) and Bogarde's British Army Intelligence officer who tries to protect her.
Despite the glossy sixties veneer, James Bond-style bouzouki & trumpet score by Angelo Lavagnino (and bona fide Cypriots George Pastell & Paul Stassino in supporting roles who both appeared in Bond films) this is more like one of Bogarde's fifties war films. One of them, They Who Dare (ironically made by the director of All Quiet on the Western Front), also co-starring Denholm Elliot, had actually been made in Cyprus. Obviously Cyprus was out this time round so the picturesque backdrop is provided by Italy.
In the final scene on the flight to Athens I had long assumed the blonde BOAC stewardess was in league with the bad guy, and it was quite a while before I realised the significant looks she kept throwing his way during the flight were those of a concerned innocent bystander rather than a confederate.) Richard Chatten.
DVD AVAILABLE