Director: Per Hanefjord   Writer: Maria Karlsson
Claudia Galli Concha, Inga Landgré, Jan Malmsjö and Jakob Oftebro.
The Nordic thriller is turning out to be one of Sweden's finest exports and THE HIDDEN CHILD is no exception. Based on a true story  adapted from Camilla Läckberg's Fjällbacka novels, this is Swedish helmer Per Hanefjord's second feature finely shot in the bleak seascape of  Västra Götelands Iän. Marek Wieser's atmospheric widescreen visuals and strong performances from leads Claudia Galli Concha (Erica) and Jan Malmsjo (Axel) will appeal to fans of 'Borgen' and 'Wallander'.
It opens with a cosy family scene where young writer Erica Falck has just given birth to her first child surrounded by her policer officer husband Patrick and loving parents. Minutes later they are killed in a tragic car crash leaving the couple free to move into their Ikea-furnished home with its attractive seaside setting.  But not everything in this garden is rosy:  a middle-aged man named Göran turns up claiming to be her brother. Erica later discovers a Nazi medallion in the attic, along with wartime newspaper cuttings prompting her to investigate her mother's mysterious past and a group of wartime friends who may have also been enemies.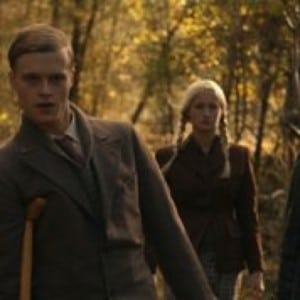 Per Hanefjord's good-looking but sombre thriller moves along as speedily as a SAAB; almost losing control of its pacing but confidently handling a fractured narrative told from various viewpoints with well-crafted wartime flashbacks punctuated by Magnus Jarlbo's suspenseful, original score.
Enfused with popular themes of Nazism and the Holocaust, THE HIDDEN CHILD is a gripping and immersive insight into Swedish and Norwegian wartime history and the concentration camps of Grini and Sachsenhausen, set against the life of a modern couple in current-day Sweden. MT
THE HIDDEN CHILD IS SCREENING DURING THE 2ND NORDIC FILM FESTIVAL