THE GREEN RAY | Dir.: Eric Rohmer | Cast: Marie Riviere, Beatrice Romand, Carita, Lisa Heredia, Vincent Gauthier | France 1986, 98′
Eric Rohmer's didactic approach he always brings to filmmaking is present again in LE RAYON VERT. Opening with a Rimbaud quote from 'The Song of the highest Tower':" Ah! Let the moment come/when hearts love at one", he then sends his heroine Delphine (Riviere) all over France, in search of this exact rare moment. Delphine is a Parisian secretary still suffering from the break-off of her engagement two years previously. She has not come to terms with herself and is emotionally distraught. The summer holidays bring new frustrations: when weighing up the pros and cons of a sea-side holiday, she gets short shrift from an elderly neighbour who sees no need for her to travel: "We have the Seine!". When a friend for a planned journey to Greece deserts her, she vents her anger on her family who invite her to Ireland for a camping holiday – Delphine, rather arrogantly, declines. A trip to Cherbourg with her friend Francoise (Rosette) comes to an early end, when Delphine's passive-aggressive behaviour erupts with her insistence on long, lone walks into the woods and a dogmatic stance on vegetarianism. Naturally Francoise's family take umbrage. Next is a mountain holiday, prematurely ended by a long crying fit. Finally, at the beach in Biarritz. Delphine overhears a conversation about a Jules Verne novel, where "a flash of green", which one can see at a clear-skied sunset, enables a person to get close to true feelings: their own and the ones of others. Delphine sets out to find the magic ray. Delphine is a classical Rohmer heroine, on par with Louise in LES NUITS DE LA PLEINE LUNE and Felicie in CONTE D'HIVER. All three drive their partners and friends, as well as the audience, crazy. They want, what they seemingly cannot get: the perfect relationship which exists only in their heads. In spite of this, they are adored by everyone, We root for them because we understand that they are different from most of us by acquiesing too early to relationships full of compromise – just to not be alone. None of these three women are particularly outstanding in any way, but they are obsessed by the need for perfection in affairs of the heart. They are often awkward and stubborn, preferring their own company – until they find 'the one'. And, like Louise and Felicie, Delphine would also break off any relationship, which might seem a practical compromise – only Delphine runs even before anything could happen.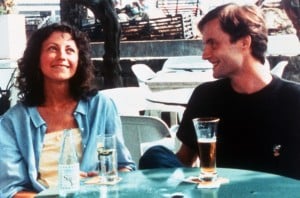 LE RAYON VERT, the fifth instalment of Rohmer's Cycle of "Comedies and Proverbs", is a long essay on the need to find oneself, before being ready for a close relationship. Delphine is an archetypical Rohmer heroine, who transcendences every-day life by a fierce dream, for reasons she might not even be conscious of. Marie Rivière is also the co-author of the film, so her Delphine is particularly believable: she is fragile and overbearingly insistent at the same time. There seems to be an invisible wall between her and the other protagonists, who appear wooden and predictable compared with her convinced take. Riviere makes us believe that if anybody can pull off a miracle, it is her.  Whatever the destination of her travels, the delicate camerawork and background landscapes seem as transient as Delphine – the mountains, are neither towering or threatening. Somehow the scenery colludes with Delphine against the adult she is fighting, both are waiting to be released by a miracle. AS
THE MARQUISE OF O… | Cast: Edith Clever, Bruno Ganz, Peter Luhr, Edda Seippel. 102′
In Rohmer's moving adaptation of Kleist's classic novella, set during the Napoleonic Wars, a virtuous widow finds herself mysteriously pregnant. This was Rohmer's ironic and wittily engaging exploration of the female role in a male-dominated  society. Glowing with Almendros' compositions, inspired by Romantic painting of the period, Rohmer even appears himself – as a soldier.
OTHER TITLES IN THE BOXSET: PAULINE; FOUR ADVENTURES OF REINETTE & MIRABELLE; FULL MOON IN PARIS; MY GIRLFRIEND'S BOYFRIEND; PERCEVAL; THE TREE, THE MAYOR & THE MEDIATHEQUE; THE AVIATOR'S WIFE; A GOOD MARRIAGE
ERIC ROHMER COLLECTION | ON RELEASE FROM 12 DECEMBER 2017 | COURTESY OF ARROW ACADEMY