Dir.: Robert Day; Cast: Alastair Sim, George Cole, Jill Adams, Terry-Thomas, Raymond Huntley; UK 1956, 80 min.
Robert Day, who died age 94 in 2017, had an interesting and varied career after directing his first feature, under the guidance of Basil Dearden and based on the play Meet a Body by Frank Launder and Sidney Gilliat,The slight but entertaining farce takes its title from a hotel on the South Coast where Alastair Sim is Harry Hawkins, a watchmaker with a sideline as a professional hitman.
He is tasked with killing politician Sir Gregory Upshott (Huntley) but in the process  comes across skirt chaser Charles Boughtflower (Terry-Thomas), whose latest crush Ann Vincent (Adams) teams up with vacuum cleaner salesman William Blake (Cole) to save Hawkins' victim – without even knowing what he looks like. After repeatedly getting in the way of Hawkins' plan, they manage to derail his efforts and the whole crew end up in a dilapidated seaside hotel (The Green Man), where the tension and laughs steadily rise to a brilliant climax.Cole is hilarious as the gadget obsessed Blake, who cannot understand, that hardly anybody shares his love for the newest inventions. Terry-Thomas is his usual blustering self, and Huntley's pompous Sir Gregory does not deserve to get away. DoP Gerald Gibbs tries hard to overcome the theatrical setting, whilst Day directs with great panache.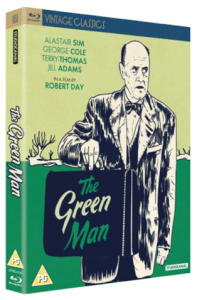 Day would later direct Boris Karloff in The Haunted Strangler and Corridors of Blood, Peter Sellers in Two Way Stretch, Ursula Andress in She and George Sanders in Operation Snatch. He also was in charge of four Tarzan features in the 1960s, but would later turn to TV work, directing episodes of Dallas, Kojak, The Avengers, The Streets of San Francisco, McCloud and classics like Police Story and The Adventures of Robin Hood. Work didn't dry up and in the 1980s he signed off with the TV disaster movie Fire: trapped on the 37th Floor in 1991.
For the 2020 restoration of THE GREEN MAN, STUDIOCANAL went back to the original camera negative where possible and alternative sources where severe damage that could not be repaired was encountered. These elements were scanned at 4K resolution in 10bit and then restored in 4k.
ON RELEASE FROM 18 May  | BLU-RAY, DIGITAL DVD