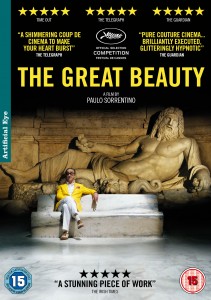 Dir: Paolo Sorrentino   Writers: Paolo Sorrentino, Umberto Contarello
Cast: Toni Servillo, Sabrina Ferilli, Carlo Verdone, Carlo Buccirosso
137mins  *****     Italian with English subtitles   Drama
Paolo Sorrentino's sensual overload of all things Italian transports you to Rome for a paean to pleasure and pain, gaiety and melancholy seen through the eyes of writer and roué, Jep Gambardella.  Played exultantly here by Sorrentino's regular collaborator, Toni Servillo (The Consequences of Love, Il Divo), this is possibly Sorrentino's best film so far, capturing the essence of Italy's rich, beautiful and cultured middle class with an appealing and bittersweet languor that was first experienced in Fellini's La Dolce Vita, here seen in the context of 21st century ennui.
But Jep Gambardella has only written one book having spent most of his nights as a party animal and bon viveur.  At 65, well-preserved and suave, he exudes a Mediterranean masculinity with his finely-tailored jackets and well-made shoes.  In this rich Autumn of life,  jolted from his benign state of bachelorhood by an unexpected discovery, he is thrown off-balance and onto a Proustian trip down memory lane.  But as he looks back with friends and paramours, he sees complexity and spirituality beyond all the glamour and profanity.
The Great Beauty is an opulent banquet of tone and texture, captured here by Luca Bigazzi's dizzying cinematography, evoking all that's stylish and beautiful as well as hypocritical and shallow about the Italian way of life.  See it, enjoy it, savour it; because one day its passion and glory may be gone forever and only memories will remain. MT
[youtube id="koxRDhAQOpw" width="600″ height="350″]
THE GREAT BEAUTY IS OUT ON DVD and BLU-RAY ON  13 January 2014  COURTESY OF ARTIFICIAL EYE.
THE FILM HAS ALSO BE SHORT-LISTED FOR THE FOREIGN LANGUAGE SECTION OF THE OSCARS IN MARCH 2014