Director: Wong Kar Wai
Cast: Tony Leung Chiu Wai, Ziyi Zhang, Chang Chen, Zhang
120min    Drama  Cantonese/Mandarin with subtitles
A debonair man in in a black trench and white fedora steps out into the rain-drenched night, all noirish shadows and gunmetal streets. Sauvely and sinuously, he rapidly sees off a twirling troup of assailants in Wang Kar Wai's latest outing choreographed by Yuen Woo-Ping in a dazzling opening sequence assisted by Philippe Le Sourd's precision cinematography.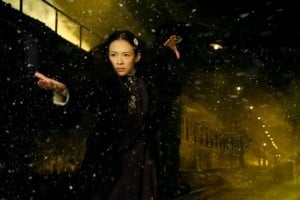 This is the story of two Kung Fu masters. Ip Man (Tony Leung) comes from China's south and Gong Er (Ziyi Zhang) is his adversary from the north. Their paths cross and a elegant love story unfolds in Foshan on the eve of the Japanese invasion in 1936. Gong Er's father is travelling to Foshan to visit the legendary brothel, The Golden Pavilion, where the country's best martial artists come together for his retirement ceremony. This tale of betrayal, honour and love plays out against a war-torn backdrop that opens in 1936, as the martial arts community of the Southern China anticipates the imminent retirement of Master Gong Yutain (Wang Qingxiang).
Tony Leung trained to be a legendary Grandmaster for his role in the film Wong Kar-Wai's highly anticipated, years-in-the-making, arthouse treasure and claims it has made him a better and more disciplined actor. The art involves physical training but, more importantly, mental exercise and adds qualities of  unshakeable confidence, modesty and inner strength to his repertoire of talents, not least of which is star quality. At the press conference at Berlinale 2013, he claimed Ip Man is the the first character he's actually enjoyed playing because of his supreme optimism in the face of the preternatural pressure faced by his slick protagonist as he undergoes a lifetime's preparation, which sees him eventually training Bruce Lee.
The Grandmaster serves as both a biopic of the imagined kung-fu expert but also a tender love story, showing director Wong Kar Wai at the height of his technical skills and precision as a filmmaker with its sumptuous noirish look of richly lacquered hues of grey and green and snowy panoramic landscapes. But the director's usually inspired and creaative storytelling occasionally feels difficult to follow and less immersive and despite its straightforward linear narrative structure. This current release has been edited down to 108 minutes from the original 120 minutes, tightening it slightly and including some helpful inter titles. Nevertheless, his latest film lacks both the heart and soul of In The Mood For Love and the edginess of Chungking Express or even the lush and dreamy imagination of 2046.  Even Ashes of Time (1994), his other martial arts film, generates a more profound and authentic sense of place and power with its clashing swords and acrobatics. But The Grandmaster is a highly commercial film that places Wong Kar Wai firmly in blockbuster territory despite its Mandarin/Cantonese script. Sadly, despite its remarkable kung-fu credentials, there is little emotion here behind the motion. MT
THE GRANDMASTER HEADLINES THE KUNG FU FESTIVAL
MONDAY 1ST DECEMBER – ENTER THE DRAGON
TUESDAY 2ND DECEMBER – CROUCHING TIGER, HIDDEN DRAGON
WEDNESDAY 3RD DECEMBER – HOUSE OF FLYING DAGGERS
THURSDAY 4TH DECEMBER – THE GRANDMASTER 
Tickets available at www.ODEON.com
[youtube id="SgUHUptm9hY" width="600″ height="350″]