Dir.: Paul Wegener, Carl Boese; Cast: Paul Wegener, Albert Steinrück, Lydia Salmonova, Ernst Deutsch, Lothar Müthel; Deutschland 1920, 91 min.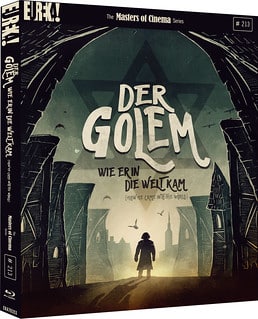 The Golem was one of the highlights of German  Expressionism. Directors Paul Wegener (The Student of Prague) and Carl Boese (Grock) created a world of chaos and destruction in the Jewish ghetto of Prague, where love and political commitment are shown as equally destructive. 
Set in the Middle-Ages, the Emperor gives the order for all the Jews to leave the country. Rabbi Löw (Steinrück) is able to to convince the Emperor to take the decree back. And he is helped in his endeavour by the Golem (Wegener), a giant who is  (sometimes) under the command of the evil genius Astaroth. The Rabbi is not aware of it, but when the Cosmic forces allow the Golem becomes destructive. He is helped by the Rabbi's assistant (Deutsch), who is in love with the Rabbi's daughter Miriam (Slamonova). When his assistant finds Miriam in bed with the Knight Florian (Müthel), he brings the Golem back to life: the Rabbi had merely 'disarmed' him. The Rabbi's assistant tells the Golem to open the heavily locked door to Miriam's bedroom, but the Golem kidnaps Miriam and runs riot, destroying nearly all of the ghetto. The Rabbi is able to destroy the connection between the Golem and Astaroth, making the giant docile again. Finally, a little girl innocently plucks away his amulet, which gives him life force.
Brilliantly shot by Karl Freund (The Last Laugh) and Guido Seeber (Sylvester), this, the forth Golem film version (The 1915 version was lost), was a great success at the box office, and is also, according to Kracauer "the only progressive feature made during the post-war period. If this attempt of reason would have been successful, reason would have denounced the character of torture and given way to the true alternative to tyranny and chaos". AS
THE 4K RESTORATION IS AVAILABLE 19 November 2019 COURTESY OF EUREKA