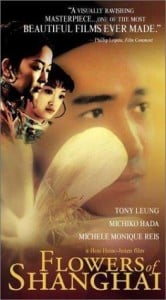 Director: Hsaio-Hsien Hou  Writer: Eileen Chang
Cast: Tony Leung, Michiko Hada, Michelle Reis, Carina Lau, Jack Kao
113min | Drama |  China | Cantonese | Shanghainese
Hou Hsaio-hsien's opium-infused jewelbox of a drama takes place in four brothels in 1880s Shanghai where the legendary 'flower girls' plied their charms and competed for the financial favours of wealthy men.
Celebrated as being among the 'most beautiful films ever made', Hou showed his arthouse gem at Cannes in 1998 but critical acclaim came only from the Far East. The Taiwanese director work has since grown in popularity achieving retrospective cult status in the West with titles such as A Time to Live, A Time to Die (1985); Dust in the Wind (1987); A City of Sadness (1989); Good Men, Good Women (1995); Three Times (2005) with Qi Shu and Chen Chang going on to star in his most recent film and Cannes Best Director winner The Assassin (2015).
Part of the appeal of THE FLOWERS OF SHANGHAI is its artistry, restraint and legerdemain in telling a story that has the look, feel and pacing of a tale unfolding in the 19th century. A Western equivalent could be Max Ophuls' La Ronde or Kubrick's Barry Lyndon – although the latter is more commercially aware.
In glowing gas-lit,brothel interiors, the narrative is driven forward by a discrete power struggle between the various courtesan prostitutes (Jade, Crimson, Silver Phoenix, Emerald) who are caught between providing enough bookings to satisfy their 'Auntie' (bosses) and attracting the continuing charms of rich men who will finance their lives and this ignites occasional sparks of dramatic tension, such as when Wang suspects Crimson of cheating. Filmed in a series of 38 long takes that track the widescreen slowly, voyeuristically relating the course of events and often animated conversations, before eventually dissolving gracefully before the next scene comes into view.
During these opium-loded exchanges, sex never rears its head although the suggestion of it continually bubbles below the surface, particularly for Tony Leung's 'flower house' habitué Wang, who has a penchant for Crimson (Michiko Hada) but later falls for the younger Jasmin (Vicky Wei). And male-ego stroking is very much the order of the day (nothing has changed there!) as the girls simper and sigh, delicately manoeuvring the men into emotional straightjackets so that 'honour' forces them into a position of financing or, even better, owning the girls – by marrying the most desirable and thus engaging their exclusive sexual favours for posterity. In livelier moments the ensemble cast is seated round a dinner table where drinking games play out between the men as the women wait quietly and patiently in the background.
The only jarring element of the film is the repetitive score – a tune reminding us that THE FLOWERS OF SHANGHAI is indeed a metaphor for life: there are winners and losers but the game goes on again. This is the way the world goes round, in polite society, and always will. MT
[youtube id="adRXz1dev4k" width="600″ height="350″]
THE FLOWERS OF SHANGHAI | HSIEN-HSIAO HOU RETROSPECTIVE | BFI 2015