Dir: Yasujiro Ozu | Cast: Shin Saburi, Michiyo Kogure, Koji Tsuruta, Chishu Ryu | Japan, Drama 116′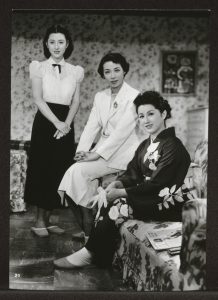 The Flavour of Green Tea Over Rice tells the story of a marriage slowly imploding as Japan shifts into the modern world from its pre war traditions.
Like many luminaries of the last century Japanese legend Yasujiro Ozu (1903-1963) experienced some milestones – from the Manchurian Invasion to the Second World War and the atomic bombs that ruined Japan on an epic scale. But the director absorbed all this tragedy and distilled it into gentle domestic dramas reflecting on the virtues of humanity and the subtleties of relationships in family life as seen in Tokyo Story (1953) and Good Morning (1959).
The Flavour of Green Tea Over Rice (1952) cleverly skirted round the censors in telling a story of one family unable to overcome the shift from the traditional to the contemporary. Taeko Satake (Michiyo Kogure) comes from a wealthy family but her marriage to working class husband Mokichi (Shin Saburi) is in trouble, her refined ways and preference for wearing kimonos is at odds with his more down to earth attitudes, and the couple have no children to keep them together. During a spa trip with friends she voices her feelings of disenchantment. Meanwhile, her niece Setsuko (Keiko Tsushima) expresses her own desires to make a break from tradition dressing in the latest fashions and resisting her aunt's attempts at matchmaking, pointing out how her own arranged marriage is clearly not the answer.
All this is handled with the lightness of touch and underlying humour so familiar to Ozu's films. The tone is upbeat and there is still an affectionate playfulness to the couple's discord with the usual daily tiffs that speak volumes about their troubled relationship. Taeko prefers cultural pursuits such as the  kabuki theatre while Mokichi is more at home riding his bicycle. But they eventually reach a compromise over a simple meal of green tea over rice they prepare together late at night after their maids have gone off duty. Meanwhile Setsuko finds a new boyfriend in the shape of Noburu, a young friend of Mokichi. The final scene is a cleverly enigmatic depiction of the one of the film's pivotal themes. We see Setsuko running away from her lover down a Tokyo street: is she rejecting the idea of marriage or simply playing hard to get? Underlying tensions are teased out delicately in this graceful domestic drama from the Japanese master. MT
Blu-ray/DVD release on 18 May 2020 and simultaneously available to stream or buy via iTunes and Amazon Prime. On BFI Player from 5 June 2020 within a collection of 25 Yasujirô Ozu films released on BFI Player's Subscription service as part of JAPAN 2020, a major new BFI season launching this month (more details below)