Dir: Val Guest | Wri: Wolf Mankowitz | Cast: Edward Judd, Janet Munro, Leo McKern, Michael Goodliffe, Bernard Braden | Fantasy Sci-Fi | US 96′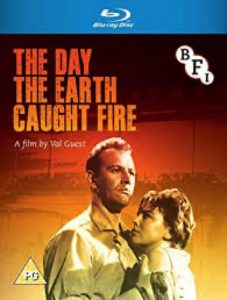 Valmond Maurice Guest (1911-2006) was an English film director and screenwriter who started his career on the British stage and in early sound films. He wrote over 70 scripts many of which he also directed, developing a versatile talent for making quality genre fare on a limited budget (Hell is a City, Casino Royale, The Boys in Blue). But Guest was best known for his Hammer horror pictures The Quatermass Xperiment and Quatermass II, and Sci-Fis The Day the Earth Caught Fire and 80,000 Suspects which nowadays provide a fascinating snapshot of London and Bath in the early Sixties. Shot luminously in black and white CinemaScope the film incorporates archive footage that feels surprisingly effective with views of Battersea Power Station and London Bridge. A brief radio clip from a soundalike PM Harold MacMillan adds to the fun.
The central theme of this energetic and optimistic fantasy thriller is nuclear paranoia that plays out in flashback in the Fleet Street offices of the Daily Express newspaper reporting on a crisis involving H-bombs tests in Russia and the US, causing the titling of the Earth and leading to cyclones, dangerously rising temperatures, and a lack of water with fears of a typhus epidemic : "and what about all this extra Polar ice that's melting"  (a prescient reference to global warming).
The opening scenes rapidly sketch out the febrile tension in the air and introduce us to the voluable characters involved through some extremely zippy dialogue between science editor Leo McKern, Bernard Braden, and bibulous reporter Peter Stenning (Edward Judd), who then falls for savvy telephonist Jeannie Craig (Janet Munro) who gives him the firm brush off. The real-life Express editor is played rather woodenly by Arthur Christiansen. There's even an uncredited vignette featuring Michael Caine as a traffic officer – his voice is unmistakable.
NOW ON Bfi Player