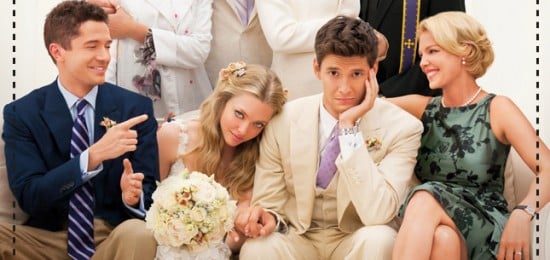 Director: Justin Zackham
Script: Justin Zackham, Jean-Stephane Bron
Producer: Anthony Katagas, Clay Pecorin, Richard Salvatore, Harry J Ufland, Justin Zackham
Cast: Amanda Seyfried, Robert de Niro, Katherine Heigl, Robin Williams, Susan Sarandon, Topher Grace, Ben Barnes, Diane Keaton, Marc Blucas, Kyle Bornheimer
US                          90mins                       2012               Rom Com
A remake of Jean-Stephane Bron 2006 title Mon Frere Se Marie (aka 'My Brother Is Getting Married') set in Switzerland, where an adopted Vietnamese son is getting married to a well-to-do Swiss girl and his birthmother is going to make the trip of a lifetime, not only for the wedding of her boy, but to meet the family she gave him up to, all those years ago.
Here relocated to America, the adoptee Alejandro (Barnes) is now Columbian(!?), went to Harvard and speaks five languages (one senses that the production bent over backwards to please the PC brigade). The problem is still the same though: the impending birthmother is a traditionalist and devout Catholic, so the American family needs to be on best behaviour and pretend they are whiter than white. Excuse the pun. This means that the adoptive parents (de Niro and Keaton) have to pretend they are once again husband and wife, much to the chagrin of de Niro's long-term partner, Sarandon.
Ostensibly, a comedy of manners then, with the visitor not speaking a word of English, everyone on best behaviour and acres of banter and bad language (hilariously..) lost in translation. And this film does rely heavily on perceived shock factor, spilling expletives out like confetti, in place of much real wit or repartee.
Very much a calculated ensemble piece, everyone gets their fifteen minutes of sub plot, although surprisingly, the one to get the least footage is top-billed Seyfried herself. We have the sister (Heigl) going through her own relationship issues, the brother (Grace) still a virgin at 29 and the groom (Englishman Ben Barnes), trying to juggle his adoptive family, his bride, his brides family and his birthmother on the day before the nuptials.
When all is said and done, it is a better film than I was prepared for, going in, but this is not to say it's a great film. I settled in prepared to be disappointed, but it did make me laugh a couple of times. It's an idea with legs, that obviously did well enough in its original incarnation to spark interest and warrant a makeover Financially and the producers (all five of 'em) saw it as a great opportunity to wedge it chock-full of faces, but they also know they aren't going to the Oscars with it either.
Presumably, everyone involved saw the irreverence of the script, the size of the paycheck and called their agents back with one word on their collective lips: 'Kerchingg'. Followed, on Final Day of Principal Photography, by 'Thank you very much'.
It's of mild interest though, how audiences will receive it. It's dressed up for all the world as an inoffensive, summery Four Weddings type of gig, but the humour is a fair bit more base than that. Certainly de Niro won't be saying 'Cunt' in the crop and chop TV version, you can be sure of that. How edgy. AT